Custom T-Shirt Printing Services - DTG Digital Printing, Screen Printing & Embroidery
Are you looking to have a custom printed t-shirt designed for your event, business or school? At Broken Arrow Custom Shirt Printing, you can choose from one of our 6 custom t-shirt printing methods! We offer screen printing, dtg digital printing, specialty ink printing, all over printing, embroidery, transfers and rhinestones. If you are feeling really fancy, combine the custom t-shirt printing options together to create a mixed look that will surely wow your group. We even have Cheap Custom Shirts with No Minimum Order. If you still are unsure about which option is right for you, contact our customization experts and they can help you. Some of our alternatives to the basic custom t-shirt printing services including rhinestones, all over Printing, waterbase and embroidery. Our various t-shirt printing options gives you no minimum printing flexibility as well as bulk orders if you are on the lookout for cheap custom t-shirts. The most popular garment fabric for tee shirts is 100% cotton, but we also offer polyester t-shirts, tri blends (cotton/rayon/poly), and virtually any other combination of fabrics that is on the market today. At Broken Arrow, you can design your own t-shirt online or take advantage of our professional artwork design services and leave the work to us. Once you place your t-shirt order, we will create an online proof for you to review and will only print once approved! With our quick custom t-shirt printing services of just 4 business days after you approve the artwork, your custom t-shirts will be delivered right on time.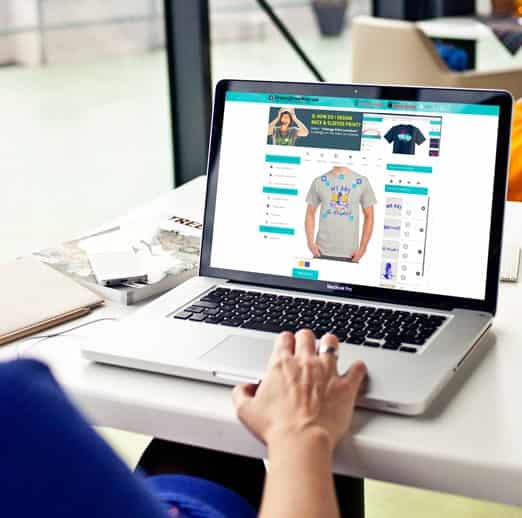 Design Custom T-Shirt Prints Now!
Ordering custom printed t-shirts can be easy and you can do it right from the comfort of your office or home. Our custom t-shirt printing online design tool lets you choose from thousands of clip artwork options or you can even upload your own logo or file. If doing that isn't your thing, our talented artist can help you create a design from scratch or you can design right online with our new, updated design tool. With over hundreds of design templates, thousands of clip art options and hundreds of t-shirts and other garments to choose from, you can create a one of a kind shirt in no time. Even if you are not an artist, we've got great support for you to create something that looks like you paid for a professional design. Our custom t-shirt printing services include free custom artwork over 12 pieces, so if that's not your thing, let us help! All of our prices are wholesale, so you will never pay retail price for your favorite brands. From American Apparel to Next Level, Nike to Gildan, we've got something that will fit your custom t-shirt printing needs. If you need help picking out the best tee for your project, we can help you with that as well. If you are looking for custom t-shirts no minimum requirements, we've got those too.
Design Now
---
Custom Shirts Delivered Fast - 6 Business Day Standard Turnaround
Turn your custom t-shirt designs into life with high quality printing. With over 25 years in the custom apparel business, we've worked to perfect one of the fastest standard turnaround times in the country on custom t-shirt printing services. Through our online design tool, select your delivery date based on your zip code and only pay for what your needs are. Need them delivered Next Day Air, we've got you covered. Our standard turn around with no extra fees gets your garments printed 4 business days after your final order is placed and ships the following. Your custom printed t-shirts will be delivered right on your door step or to your business. No lugging big boxes around and trying to fit them in your car. Keep it easy with Broken Arrow. Custom shirts are our favorite thing. Dont forget that we have your favorite brands in additon to tons of styles. From Next Level to Gildan, Hanes to Fruit, we've got you covered.
More Than Just Shirts - Custom Hoodies, Polos, Hats & Other Items
We know that sometimes you need a little more than the ole basic thing which is why we offer a full catalog of over 10,000 garments. Some of those items include ladies shirts, youth sizes, tall, polos, hoodies, crew necks and other specality items such as hats, bags and even aprons! You wont ever be disappointed in our selection and everything online is included with our free shipping and fast turn around. Design your custom t-shirt online or have our professional graphic artist design it for you...the world is your oyster.