No Minimum Lightweight Crewneck Sweatshirts
Perfect for summer warmth, these bulk free crewnecks are great for indoor and outdoor use.
---
No Minimum Midweight Crewneck Sweatshirts
Most Popular Weight, Great for Year Round Use
---

Heavyweight, Standard Boxy No Minimum Long Sleeves
These are traditional styles of long sleeves - heavyweight and boxy cut.
---
Design No Minimum Full Zip Sweatshirts Online
In fact, digital printing designs over zippers is one of Broken Arrow's specialties. Because of the seams and creases next to the zipper, our special combination of water-based and discharge ink creates a more precision hoody print as it prevents too much ink from building at the crease.
Thanks to our state-of-the-art equipment, we are able create large full zip hoody designs in the same sizes and colors as we print on custom-decorated T-shirts, so, if you choose, your hoody's screen-printed design can easily extend from one side of the zipper to the other.
You can even create a matching pant, ladies item or even tee!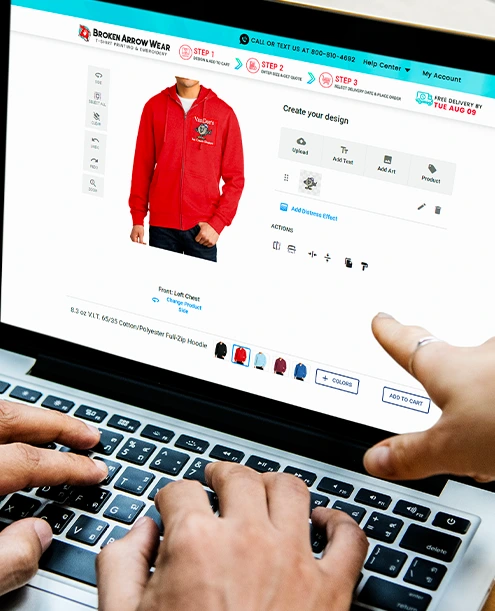 No Minimum Order Quantity on these Full Zip Hoodies
When the temperature drops, it's time to get cozy with custom decorated zip up hoodies!
Full zip hoodies are easier to put on and take off than pullovers, and you can leave them un-zipped when you don't need quite as much warmth.
Whether you need one, a hundred, or any number in between, we have many full zip-up hoody styles with no minimum order requirements.
We offer lots of popular brands of no-minimum full-zips that you can easily custom decorate with your personal design, including Hanes, Gildan, American Apparel, J-America, Independent Trading Company, Eddie Bauer, Colorado Clothing, Anvil and more.
Are you looking for a super soft lightweight full-zip hoody that's great for lounging, driving or going out? We have those. Do you need a thick, warm full-zip hoody to wear while working or playing outside? We have those, too.
Interested in Purchasing More than 6 Full Zips?
The items on this page are specifically compatable with our no minimum printing method called digital or DTG printing. These items have atleast 80% cotton but we have thousands more available. Check out entire selection of Custom Zip Up Hoodies online now. Built in quantity based discounts will automatically apply so you can be assured you are getting the best possible pricing.