Fast Screen Printing & Embroidery Services to Meet Your Deadlines
We offer one of the fastest standard turn-around times in the industry! Our shirts print just 4 business days after you approve the artwork and ship the following. Are you in a hurry for some fast screen printing or fast embroidery? Don't worry, we also offer rush services and expedited shipping so you can have custom tshirts asap. We specialize in getting custom printed apparel delivered to your door on or before your deadline. With over 25 years' experience in the screen printing & embroidery business, you can count on us to deliver on time, every time.
Completed in
4
Business Days
---
Included with all orders
After artwork approval
Ships the following business day
Completed as soon as
3
Business Days
---
$49.95 per order
Ships the following business day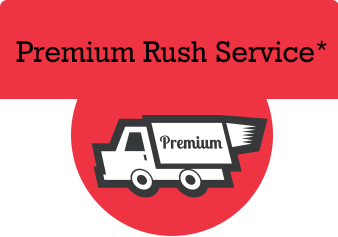 Ships as soon as
2
Business Days
---
$99.95 per order
Expedited shipping available
View our shipping map to check transit times to your locations.
Quick, On Time Delivery for Custom Printed T-Shirts,
Hoodies, & More
How do we have the ability to deliver such fast screen printing and embroidery services when other people take 2 weeks or more? Great question! Broken Arrow has state of the art order processing software and production equipment that allows us to be as organized and efficient as possible. We carefully select reputable vendors to purchase blanks through that allow us to get them quickly and at wholesale prices. With fast delivery of blank products to us, it allows us to get them out the door to you more quickly. There are always exceptions to the rules, but for the most part, not with us! Once we get your blanks we turn your product as fast as possible. Fast screen printing or fast embroidery has never been easier! You Don't have to search for custom t-shirts near me, as Broken Arrow has a speedy delivery time to anywhere!
Shipping & Delivery Information for Standard
and Fast Delivery
Free UPS Ground shipping is included with standard orders*. With our standard fast turnaround and rush service, garments will ship the following day after printing. With our premium rush service, garments will ship the same day that the order is printed. Be sure to add the transit time on to your calculations to ensure you receive your garments by your deadlines. If you need rush shipping, you can add that to your order for an additional charge to get your items even faster! We understand that rushing your order can make you nervous about meeting your deadlines, so to ease your mind, contact our customer service team today to discuss your exact needs and for help to make custom t-shirts fast!
*Exclusions to free shipping include customer supplied garments and locations outside of the contagious United States. Expedited shipping and other shipping methods are available at an additional charge.
Turn-Around Time Testimonials