Our Top Picks for a Lightweight & Soft T-Shirt
If you are looking for a t-shirt that is lightweight and super soft, these are the ones for you! These are our staff and customer favorites.
---

Our Pick for Heavyweight T-Shirts
Thanks to the trendy urban and streetwear style, heavyweight t-shirts have become more in demand. These are our heavyweight picks:
---

Best T-Shirt for the Budget Conscious
We have a lot to choose from, so we've done the leg work for you to find the cheapest customizable shirts in our entire catalog. While cotton is generally cheaper, we found a tri-blend for the list.
---

Best For Moisture Wicking & Performance
When you want to stay cool and dry, you'll want a Dri-FIT style tee. Made with 100% or mostly polyester, these are our favorites for high quality moisture wicking performance.
---

Best T-Shirts using Eco-Friendly and Sustainable Materials
Being eco-friendly is trendy, so many apparel makers are coming up with great options using both eco-friendly materials and sustainable processes. These are our favorite picks:
---

Our Favorite Ladies & Womens Fit T-Shirts
Combine the trend of dad caps and snapbacks together to create your new favorite hat. These soft front hats are perfect for both men and women for a more casual look.
---
More Custom T-Shirt Categories: Find What You're Looking for - Fast
With hundereds of t-shirt options available, you'll find the perfect tee for your needs. Need help?
Our customer service team can assist you in finding the perfect shirt to match your needs.
What Fabric type is right for you?
With the many options to choose from, one of the most important considerations when choosing your shirt should be the type of t-shirt and its fabric makeup. See which fabric fits your needs and choose from our hand currated product selections.
100% Cotton: Typically the cheapest shirt option, cotton offers the highest breathability and coolness a shirt can offer. Cotton tends to wrinkle more and tends to absorb sweat giving you that "wet" feel. A lightweight cotton would be around 4oz thread weight were as a heavyweight could be up to 7oz.
100% Polyester: Made famous by Nike's DriFIT technology, polyester products are also known as moisture wicking and athletic shirts. Polyester will wick away moisture from your body to keep you dry. It also tends to be wrinkle resistance - perfect for wash and wear polo options.
Cotton/Poly Blend: If you want the breathability of cotton, but the moisture wicking or stay dri of polyester, check out our huge selection of cotton and polyester blends. Perfect for outside wear or sweaty environments that do not want a shirt with the athletic look. As an added bonus...they can be super budget friendly too!
Triblend: Tri-blends offer a combo of three fabrics. Typically they are cotton, polyester and rayon. These products off all of the benfits of cotton and poly, but offer added softness with the rayon. If you are looking for a super soft shirt, this is the perfect blend.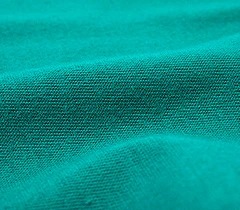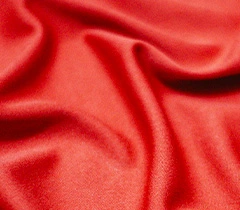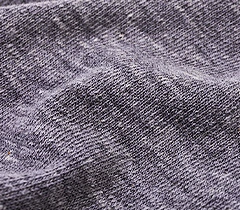 Custom T-Shirts Online: How Are They Made?
With different customization options available, we have printing options that will suit your design and needs perfectly.
DTG Digital Printing
No Minimum order required! If you need less than 6 pieces, your design is high in colors or super high detail, Digital Printing is perfect for you.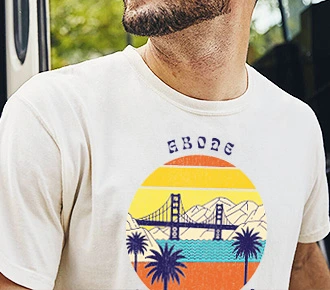 Screen Printing
With a low 6 piece minimum, Screen Printing can be done on any fabric type and tends to be cheaper in bulk than other print methods.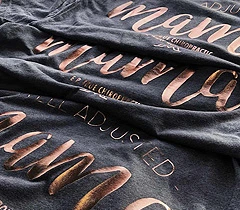 Special Effect Inks
Offering Glitters, Foils, Glow in the Dark and More. Add a little bit of something special to your design wtih our special effect inks. Learn More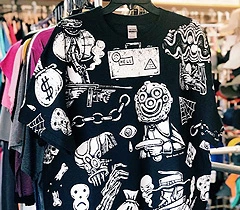 All Over Printing
If a standard print size is not large enough, this is the perfect option. Available with 12 Piece Minimum on Cotton Shirts. Learn More
---
Want to see how a custom shirt is made? Check it out:
Our screens are create for your custom design.
Using an automatic press, we load your screens and run a test print to make sure the proof matches the print.
We print and quality control check your items to ensure a great custom t-shirt.
Your order is shipped with quick delivery, for free!
---
Brands You Want at Prices You'll Love
With our everyday wholesale prices on your favorite brands, you'll save as much money as possible. We offer built in quantity based discounts making your custom shirts chaeper as the quantity increases. Check out our favorite brands:
---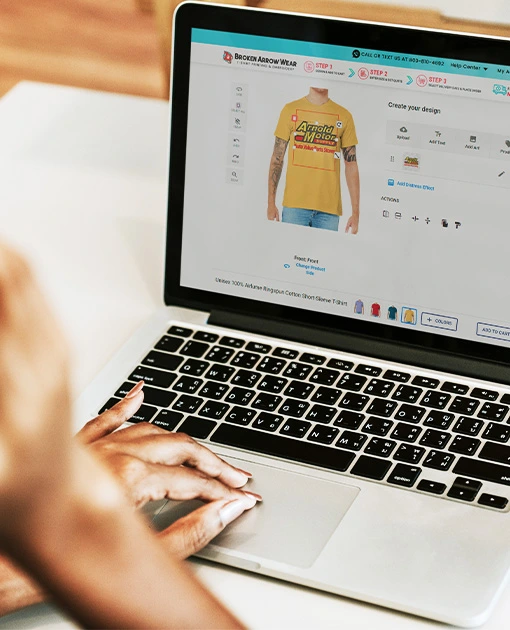 Create Custom Tees Online Now
If you have any questions at all about how to design your own t-shirts, please let our team know - we are here to help.
Did you know that we offer free shipping on all personalized t-shirts when shipping a single piece or bulk order to one address? Need us to ship to multiple addresses? We've got you covered! Choose multiple address shipping at checkout. Just $9.99 per location.
In addition to custom tees, we offer polo shirts, hats, hoodies, sweatshirts, tote bags, sweatpants, tank tops and thousands of other options. Check out our product catalog to see all the garments you can choose from.
We have graphic designers in house that can assist you with design services. - Show us what you want (or you can chat or call us) and our design team will work with you to put together a logo, design, team shirt or anything you would like to create.
Bring your ideas to life in our online design studio. It's easy to use with clipart, free design ideas or you can upload your design or logo.
Quantity for custom shirts does influence price. The more you buy, the more you save.
Frequently Asked Questions about ordering Custom T-Shirts
All of our custom tee orders are delivered 8 business days after order placement - guaranteed!
Yes! We offer printing all of your custom tee - literally! We also offer sleeve prints and retagging if you are wanting to add a custom label! We can print virtually anywhere.
Cotton offers great breathability, polyester offers moisture wicking and wrinkle free properties. If both sound good to you, check out our poly/cotton blended t-shirts.
Yes! We not only offer products up to 6XL, we also offer tall sizes and curvy sizes for women.
Our team would love to help you! We are open with live people answering the phones and chats Monday - Friday, 8AM to 6PM CST. Call us at 800-810-4692 or email us at info@brokenarrowwear.com.
Yes! With our online design tool, you can easily add additional garment colors with the same artwork! Best of all, you will get your combined order total quantity saving you the most money possible on your order of custom tees.
Yes! You can add individual names and individual numbers during the checkout process for even more personalization. Only $3.95 per name or number.
We do offer the option to ship to multiple addresses. You will select that at checkout and our system will walk to you through the super easy process to make that happen. Once we have the sizes and shipping address, our team will do the rest.