---
---
---
---
Customize Nike Products - Which option is best for you?
With options galore, it might be confusing to know what decoration method is right for your project. Here is a guide to help you choose: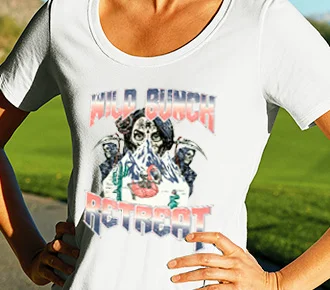 Direct to Garment Digital
We offer a select offering of no minimum Nike products using DTG printing. Perfect for high colors and details with no minimum order requirement.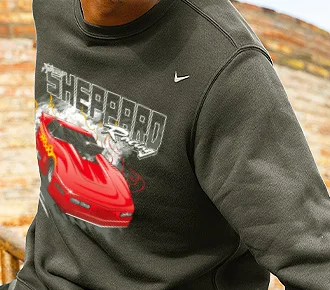 Screen Printing
Most popular for Nike full zips, hoodies and t-shirts. Screen printing uses inks and offers a low 6 piece minimum order. Cheaper in bulk quantities.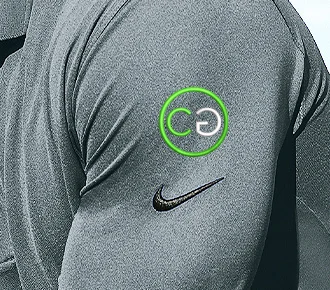 Embroidery
The preferred method for polos and hats, it adds a more classic professional touch. We turn your logo or design into stitching. Low 6 piece minimum.
Design Nike DriFIT, Sweatshirts, Polos & Apparel Online Now
Weather you need Nike for corporate, sports teams or personal use, you can easily design it online with wholesale prices!
Select your Nike item, create a design from our templates or upload your artwork, recieve a quote and place your order.
The more Nike you buy, the more you save and the cheaper your Nike tees will become. Pricing breaks typically at the dozens.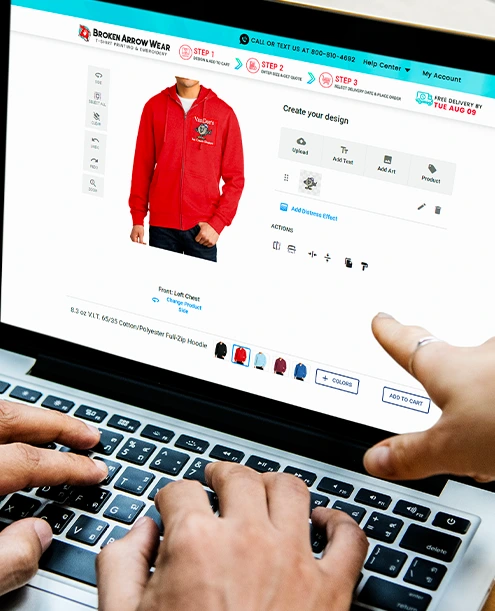 ---
Nike Custom Shirts - Things to Consider
Nike actually coined the term DriFIT, which is now commonly used in reference for moisture wicking or polyester products. What else do you need to know about custom Nike shirts? Here is our guide:
Did you know that Nike actually coined the term DriFIT, which is now commonly used in reference for moisture wicking or polyester products. Technically and legally speaking, you cannot use the term DriFIT unless you are referring to Nike specific products.
Custom Nike DriFIT shirts offer superior, high quality moisture wicking properties meaning the garment will stay dri longer and keep you feeling cooler. DriFIT technology is featured in products of all kinds from polos to hoodies, hats to t-shirts.
People often assume DriFIT products are 100% polyester or contant no cotton - that is not true! Many of Nike's tees, polos and products contain online part DriFIT material. Cotton offers a little bit more breathablity to items and can be preferred for some.
One of the largest advantages of DriFIT products is that they not only keep you dry, but they also are naturally wrinkle resistant creating a better "wash and wear" product, especially on Nike Dri-FIT polos.
Love the Nike feel but not the price? Our team can help you find cheap alternatives to Nike if it does not fall within your budget. Keep in mind however that Nike offers one of the highest quality products and fabrications on the market so you will be sacrificing that for price.
If you are looking for custom Nike shirts no minimum order, we do have an entire line that features mostly cotton fabrications which works perfect for our direct to garment digital printing.
Frequently Asked Questions about Custom Nike Shirts & Apparel
Yes! We do offer the option to design and create customized Nike clothing. You'll select the blank Nike product from our selection and then you can add screen printing, embroidery or direct to garment printing. We offer no minimum options as well, so you don't have to order in bulk if you just need a single piece!
Yes, we only offer Nike products at wholesale prices. Curious as to why our selection is more limited than you see in retail stores? Nike limits the offerings of what they are willing to allow us to sell at wholesale prices because they don't want to have us compete with their retail sportswear partners.
Embroidery is the most popular decoration method we use for creating polos. It offers a little bit more of a professional touch and a little bit of a higher end feel, which elevates the Nike brand even more.
Nike offers a large selection of shirt fabrics. They offer options with as high as 80% cotton, cotton/poly blends and their signature 100% polyester Dri-FITS. Be sure to check the description of the item you are looking for to ensure you get the right fabric for your needs.
No. Dri-FIT tends to refer to the polyester portion of their shirts. Many of their products also contain cotton or rayon, which are not considered Dri-FIT materials.