Custom Nike Hats & Caps - Fitted, Tri-Glide & Hook and Loop (off brand Velcro) Closures
Grab a hat for every team member on your list. These custom Nike hats are guaranteed to be a hit.
---

Nike Visors & Nike Beanies
Not just limited to caps, Nike has a simple selection of customizable visors and beanies.
---
Custom Nike Bags - Backpacks, Duffels, Cinches & More
Team up with your company this season and make it a winning season. Customize your Nike Bags with team colors, logos, or designs so everyone can show their spirit.
---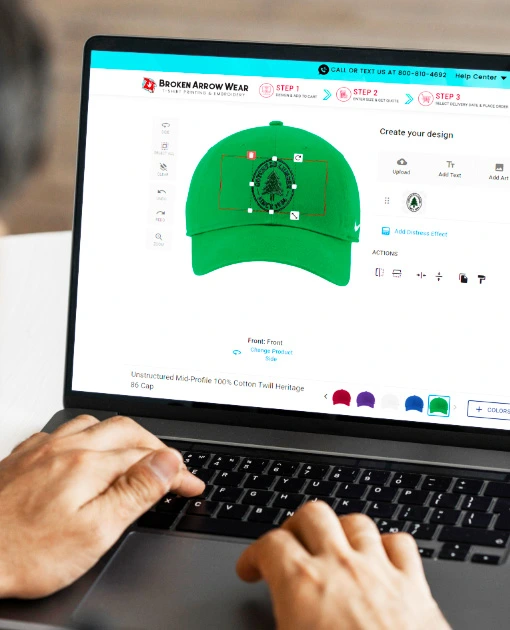 Design Custon Nike Hats & Bags Online Now
Our experienced design team can take your artwork and create something custom for you OR you can design your Nike Cap, Beanie, etc. right online in miniutes.
Nike Dri-FIT technology is easily customized and offers a great platform to add embroidery on caps or also choose from screen printing on bags and accessories.
Once you design your items, you can recieve free instant quotes, add shipping information and get your order placed.
Our customer service team is available to assist you with selecting custom items, creating a design, picking fonts, colors etc. We are here to help!
All orders will recieve Fast & Free Shipping! No artwork or setup fees either!
Important Considerations with Nike Hats & Bags
Dri-FIT Moisture Wicking Hats - Designed with performance in mind, these hats feature Nike's famous Dri-FIT technology to keep you cool and dry while running, golfing or being active.
Mesh Back Hats - A summer favorite, the mesh in the back will allow the heat to escape from your head keeping your custom Nike golf experience not only more stylish, but actually cooler.
Nike Dad Cap - A low profile front and unstructured front panel, this hat will lay flatter on your head and is a favorite dad cap for both ladies and men alike. Featuring a tri-glide adjustable closuer.
Nike Visors -the coolest option of all, have protection of the sun in your face without the weight and bulkyness of a full fledge custom logo cap.
Nike Backbacks and Duffels -Designed with confort in mind like padded straps, wheather you are heading to the office, out to the field or into the gym, you'll be able to keep all of your items in one place. Design and customize with screen printing or embroidery. Want to add an individual name to your bag? We offer added name personalization for just $3.95 per item.
Always Wholesale Prices on Nike - We only offer wholesale pricing on Nike headwear and bags making your items as cheap as possible. You might even find that your apparel with personalization included is cheaper than you can even purchase the blank retail!