Our Top Selling Nike Dri-FIT Polos
With a ton of options, it can be difficult to choose. Check out our top selling options as a place to start.
---

More Solid Customizable Nike Dri-FIT Polos
These are other great options for solid Nike Dri-FITs polo.
---

Nike Dri-FIT Polos with Texture, Stripes or Colorblocking
If you'd like something a little more than a basic fabric, check out these awesome Nike polos with high class design.
---
Moisture Wicking Polos
If you do not see what you are looking for above, we have tons of more options! Check them out:
---

Customizable Nike Ladies Polo
A perfect fusion of business and leisure, the Nike ladies polo is both a statement piece and the first thing people will see when you walk through the door.
---
Customize Nike Dri-FIT Polo Shirts: Which print method is right for you?
With more than one way to add customization to your Nike Dri-FIT polo, you'll have the perfect option to best suit yuor needs.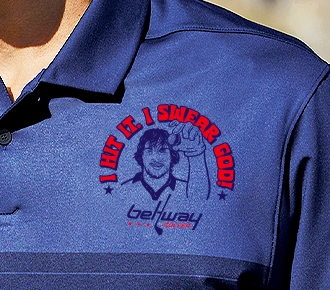 Screen Printing
Screen printing is recommend on non-textured or jersey fabric Nike Dri-FITS. We use ink to create a lightweight print. Low 6 piece minimum, the more you buy the more you save.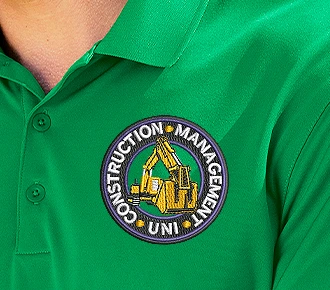 Embroidery
Embroidery is the most popular method of personalization on Nike polos for the added professional look. We turn your logo into a stitchable design. Free Digitizing, No Setup Fees!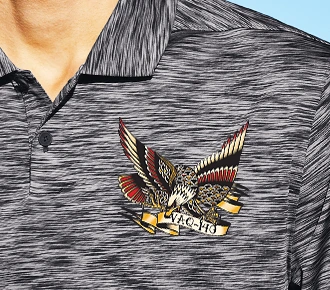 Heat Transfer
If yuo are looking for a high detailed, lightweight left chest design, consider a heat sealed transfer. The results are generally better than screen printing on pique or textured custom polos.
Design Dri-FIT Polos Online Now!
We make it really easy to design your custom Dri-FIT polo. Select your garment, upload your artwork and create your design.
After you create your design, enter in your quantity and choose your customization method - screen printing, embroidery or digital transfer.
You'll get a free instant quote including built in quantity based, wholesale pricing.
All dri fit polo shirt orders will recieve fast & free shipping within the contigous US.
Need help? Our customer service team is live Monday - Friday, 8AM to 6PM and would love to assist you!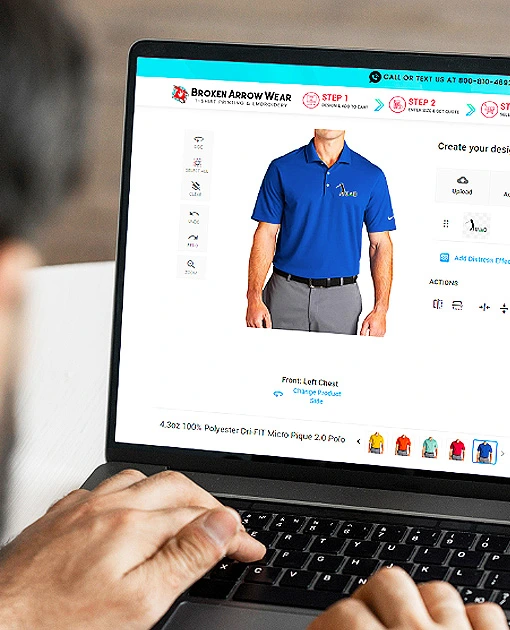 Nike Dri-FIT Polo Shirts: Learn More!
There are some really awesome benefits to polyester fabric but there are also some down sides. Here are the most important points for you to consider:
Dri-FIT Polos are wash and wear - As true with polyester products, they are the perfect fabric for wash and wear. They will wrinkle less straight out of the dryer, no ironing needed.
Fabric Softners Not Recommended - Dri-FIT polos are intended to keep you cool and dry. Fabric softners tend to plug the poors making the polos warmer and not perform as well. Try to avoid if you can to retain the high quality performance you expect from Nike.
Looking for No Minimum Dri-FIT Polos? - While our screen printing and embroidery has a low, 6 piece minimum order, we offer a no minimum option with heat sealed transfers. Check out our favorite: Nike 4.3oz Dri-FIT Micro Pique 2.0.
---
Frequently Asked Questions about Polyester T-Shirts
All the dri fit polo shirts shown above are made from lightweight, breathable microfiber fabric. This specially formulated polyester fabric is soft, breathable, and stretches to move with you. Nike's Dri Fit fabric is also engineered to wick sweat away from your body and onto the fabric's surface where it quickly evaporates. The result is a dryer and more comfortable feeling polo shirt that enables active people to look fresh and stay dryer even when they are playing golf, running, walking, or working in a warm environment.
Most customers prefer custom embroidered logos or emblems on the left front chest, but screen printing is another available option. Ask your Broken Arrow Fashion expert which decorating method is best for the custom Nike polo shirt you are considering.
We do! We have just started offering our top selling Dri-FIT polo shirt with no minimum order requirement. The print method will be heat sealed transfer. Design on the Nike 4.3oz Dri-FIT Micro Pique 2.0