100% Polyester Moisture Wicking Custom UPF Short Sleeve Shirts
Cotton/Polyester Blended UPF Short Sleeve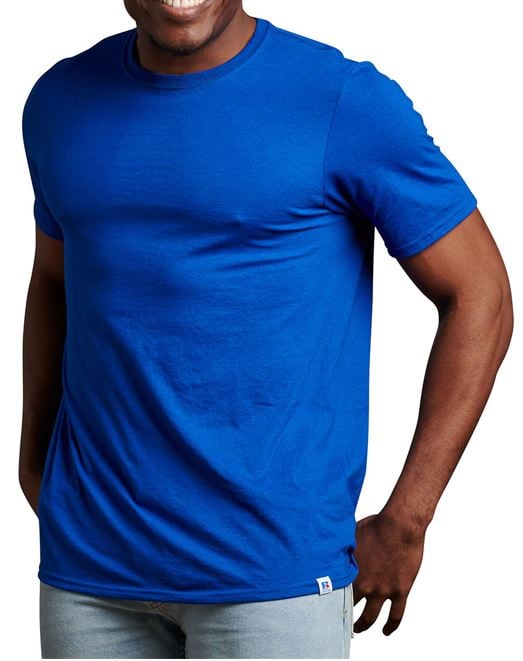 Russell Athletic 64STTM
4.7oz Cotton/Poly Essential Tee
UPF30+ | S-3XL | 16 Colors
---
Custom UPF Sun Protection T-Shirts
Custom sun protection T-shirts are made from special fabrics that add additional sun protection from ultraviolet rays.
Sun safe UPF T-shirts look and feel comfortable outdoors and help prevent both UVA and UVB rays from harming your skin.
UPF rated short sleeve T-shirts are perfect for customizing with your company logo, tagline, name, saying, or cool custom graphic.
The highest UPF rating for short sleeve sun protecting T-shirts is 50+. Custom UPF short sleeve T-shirts with a 50+ rating block over 97 percent of ultraviolet radiation.
UPF sun protective t-shirts with ratings between 30 and 50 block between 96 and 97 percent of UV radiation.
Short sleeve UPF tees with a rating between 15 and 25 means block between 93 percent and 96 percent of UV radiation.
Custom UPF T-Shirts, Short Sleeve
UPF or SPF clothing? What's the difference?
SPF stands for sun protection factor and it's the common abbreviation regularly found on suntan lotion and moisturizers.
For sun protective clothing, the rating measurement is called UPF, which stands for ultraviolet protection factor.
UPF clothing protects the skin from both UVA and UVB rays.