---
Custom Embroidery on Apparel
We have been creating embroidered apparel since 1989. With over embroidery heads, we have the ability to turn your custom order faster than everyone else.
We will turn your logo or design into a stitchable artwork file.
Low 6 Piece Minimum order on all embroidery orders.
Available on almost all products including hats, custom polos, sweatshirts and jackets and even totes.
With over 60 thread choices, we can match your logo from our Thread Color Chart
3D Puff Embroidery & Embroidered Patches available.
Free Digitizing, Free Proof, Quick Turnaround Time & Free Shipping on ALL orders.
Standard Design Included
When you select "embroidery" as the decoration method, a standard 4" wide embroidery design is included.
Mixed Media Available
Want an embroidered left chest but a screen printed back? We got you!
How is Custom Embroidery done? Let's find out!🔍
A Free Online Proof is Created
Our team "ditigizes" your design which lets our machines know what to sew. Your free proof approval is required prior to sewing.
We Hoop & Sew Product
Once the proof is approved, we will hoop your product, load it into the embroidery machines and sew it.
Finishing & Quality Review
Once completed, our team will trim and finalize product for shipping.
Things You Should Know about Custom Embroidery
There are a few unique, important factors when it comes to turning a design into embroidery. Here are the most important things you need to know.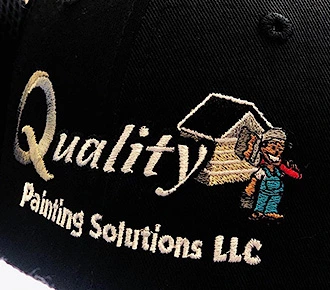 Design May Need Altered
If a design has small detail, we may need to reduce the amount of detail or simplify the design to sew cleanly. We may remove outlines, small fine details and shading. We may need to generally simplify your design, which will be reflected in your online proof.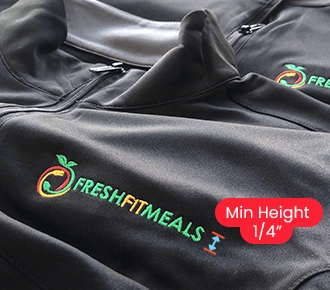 Minimum Height for Text Embroidery is 1/4 Inch
We know that your branding is important to you, and you want people to read it. We recommend all embroidered text at a minimum of 1/4 inch. If your text is smaller than that, we will likley increase it.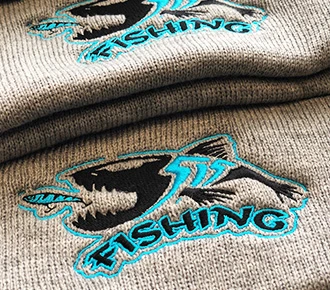 Some Design Proportions Might Change
In the interest of things sewing cleanly, we might need to increase certain details of your design, slightly changing the proportions of elements. This will be clearly reflected in your online proof.
Create Customized Embroidery Online
We have an easy to use online design studio in which you can design and customize apparel for embroidery. Thousands or products available. From tote bags to long sleeves, we have something for you. Here is how it works:
Select your product from over 10,000 different options including polos, custom hats, sweatshirts and jackets.
Choose "Design Now" to be directed into our design tool where you can upload your logo or use our design templates.
You'll create and finalize the design you would like to have embroidered and then you'll name it and add to cart.
Enter in your quantity and receive a free, instant quote for your design. Be sure you have either Embroidery or 3D Puff Embroidery selected.
Enter in your shipping address to complete your order. Select the delivery date that works for you, rush services are available if you need it.
Ready to Select a Product for Embroidery? Choose from these popular categories!
---
Frequently Asked Questions about Custom Embroidery
Custom embroidery is the process of taking any design or logo that you have, converting it to a stitchable file and sewing it on something. While we offer mostly apparel items, embroidery can be done on thousands of items including non apparel such as pillows.
We always recommend embroidery on hats and polos when possible. It offers a higher end, more professional look for your company and employees. Not all logos are good for embroidery, but our team can find a way to edit your design to make it work. Pro Tip - Embroidery is not always more expensive than screen printing.
Generally, yes! We can sew like items together such as polos, sweatshirts and outerwear together. While we cannot sew hats with embroidery due to the sewing process, we can sew various types of baseball hats. Best of all, if we can sew your items together, you will recieve the total quantity pricing break making your custom embroidery even cheaper.
First, we take your logo or design and digitize it, which means telling the machine where to sew stitches, what stitch type to use and which thread color goes where. We take your product and hoop it so it can be attached to the machinery as well as apply a special backing to have something for the stitching to catch onto. We then sew your design and remove from machines, cut and trim backing and loose threads. The end result is a product that you will have for years to come.
Embroidery is considered a permanent application when done correctly. A high quality digitized and embroidery design should last years, typically beyond the life of the actual shirt.
Typically, the incorrect backing was used, the garment was too thin or the file that was used to create the embroidery was done poorly. Our highly trained embroidery professionals will make sure this look does not occur on your product.
Yes! We offer built in quantity based discounts that automatically reward you for purchasing embroidery in bulk. Learn more about our Wholesale & Bulk Embroidery
No! While you might think that you will receive faster delivery, that is most of the time not true. Broken Arrow has one of the largest embroidery production capacities in the United States with over 50 heads of machinery. This results in the ability for us to turn your embroidered items faster. Also also offer free digitizing, free shipping and no taxes, so ordering local will not necessarily save you money either.
Unless the item is specifically designed for embroidery on a pocket, sewing the design on the pocket will actually sew the pocket shut. On items with a pocket, we suggest above pocket embroidery or the alternative chest.
Custom Embroidered Shirts add a Professional Touch
Polo shirts are a classic choice for business and professional apparel, as well as great looking logos on team apparel, shirt custom, jackets, bags, and more. With many custom logo embroidery options, the design is stitched by our automated machines on to your apparel for a clean and consistent result. Specialty embroidery is also available which gives your design a raised up look and feel, for a fun twist on stitched logos! With our cheap prices and high quality standards, you'll be loving your new custom garments. We've been embroidering garments since 1989 and have converted over 50,000 logos from paper to stitches. Our team will make any necessary revisions to ensure that your custom embroidered logo will be clean, legible and will add that highly recommend professional touch you've been longing for. To learn more about our customized embroidery services, check out some of our samples and additional info below. Not only can we do custom embroidered shirts, we also offer other apparel items such as mens polos, beanies, hoodies and hats.
---
Custom Embroidery Done Right at The First Time!
Broken Arrow has been doing custom embroidery for big and small business for over 25 years. Although many companies offer embroidery, it doesn't mean the quality and finished product will the same. High quality custom embroidered hats are determined by the quality of the digitizing, calibration of machinery and experience of the sewing expert. Each custom embroidery design is digitized specially for the garment that it goes on and each design is tested before application to your products. Did you know that hat are best embroidered from the center out and polos sew from left to right? If your past embroidery company is using the same sewing methods on all garments, you are not getting the best custom embroidery possible! Put our custom embroidery against any others and you will not be disappointed. Let our customer service team assist you with your logo or embroidered design.