Apparel Fundraising Made Easy - Whatever Your Occasion, Whatever Your Cause - Raise Money Today!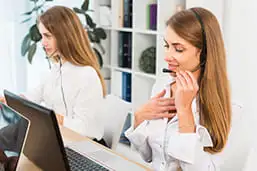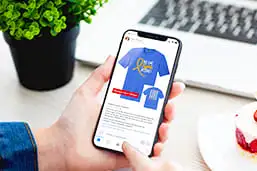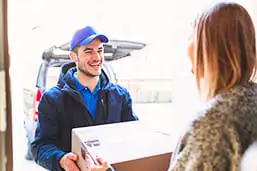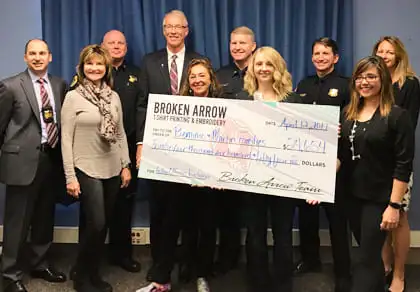 At Broken Arrow Wear, Fundraising is Personal
In 2016, our Des Moines, Iowa community was devastated by the shooting death of 2 police officers. We wanted to find a way to help the families and bring our community together, so we launched our very own t-shirt fundraiser.
Fundraising became so much more personal for us. Our entire team saw the difference we can make to familes and a community. We have been committed to helping groups maximize their fundraising profits as much as possible while making it easy for the coordinator to stay focused on the cause.
Tips to Maximize Fundraising
The More You Sell, The More You Raise
Regardless of how the product is priced online, the group will only actually pay what the true cost of the shirts is. As with traditional t-shirt ordering, the pricing continues to go down as purchased quantity continues to rise. Sell to as many friends, families and supportors as you can!
Avoid the Hassle of Dispersing
While shipping fees apply to each individually shipped order (paid by the customer that orders), you are likley to actually raise more funds. Why? Delivery to their door ensures that they get the product even when they live out of state...heck, they might want to support your cause, but do not know you or feel comfortable arranging pickup from you.
Keep the Design Colors Affordable
A one-color print will be less than a four-color print. Keep your design simple but effective and no one will even notice. The cheaper your shirts are to print, the more money you can raise...that is the entire goal!
People will Pay More for Products They'll Love
How much would you want to pay for a basic tee? Would you pay $5 more for a tee that was a super soft fabric? How about $10 more for v-neck ladies garment instead? People want shirts they will love and are willing to pay a little more for it.
Other Details that You Need to Know
Stores can be open a maximum of two weeks to ensure fast delivery.
All orders must be placed online including the group coordinator's order to ensure proper quantity tabulation.
Minimum order is 12 per design. If minimum is not met, individuals will be notified and issued a refund.
A $50 deposit is required to open a free fundraising store. This will be applied towards the final order when placed. This is in addition to the deposit required to get started with artwork designs. Please reach out to our customer service team for more information.
Your $50 store deposit includes one design on one garment. Choose up to three available color options. Additional garments on your store will be charged at a fee of $10 per item.
There will be a fulfillment fee of $1.60 per order, 40 cents per item cost which will be built into the online pricing and deducted from proceeds.
Stores open approximately 1 business day after details are finalized. Stores can be posted more quickly if needed. Rush fees may apply.
A check will be issued for the fundraising proceeds approximately two weeks after the online store closes.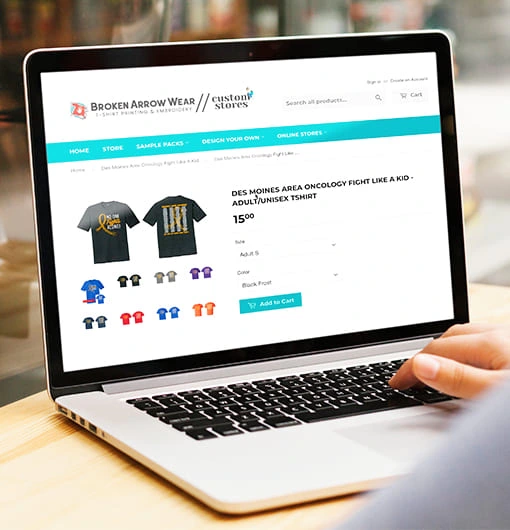 Recent Fundraiser Donations 2022
Actual funds raised through Broken Arrow Wear shirt fundraisers.
$6276
Johnston Community School PTOs
$130,159.30
Total Donated Year to Date 2022
Frequently Asked Questions
What happens if:
If the 12-piece minimum is not met, Broken Arrow will contact you. You can then either choose to buy additional items to meet the minimum requirement OR cancel the order. All accepted orders for canceled stores will be refunded to original purchaser. Due to the significant posting and processing costs incurred by Broken Arrow, the $50 store creation deposit will not be refunded.
Adding products or orders after the store has closed requires a significant amount of time and cost to Broken Arrow. Because of this, each order that is requested after the store has closed will incur a $24.95 late order fee. This is assuming the order has not yet printed and that the items ordered can still be added on without delaying the original order delivery date. If that is not possible, late orders will not be accepted. The late add on fee will be assessed to the individual(s) adding the items.
Once you have approved the items to be posted in the store and our IT team has posted the page, any revisions to the page will be billed at $35.00 per hour.
Broken Arrow will not accept paper order forms. Upon request, Broken Arrow will provide a PDF of a flyer that you can print and hand out to potential fundraising customers to direct them to the website. If you choose, you can post any paper orders you collect to the online store yourself.
You can have as many items are you want, but please note that the free store setup includes 1 design up to 3 colors of garments OR 1 design with a youth and adult single garment. Additional items on the store will be charged at a rate of $10.00 nonrefundable per item including the same design or a new design. Setup deposit cannot be used towards this fee.
If your supporters want to add a donation to their purchase or donate funds only, a 2.9 percent processing fee will be deducted. This money is passed through our credit card processor, so none of the fee goes to Broken Arrow.
To ensure fast delivery for supporters, fundraising web stores are limited to a maximum of 2 weeks.
You may not re-open your store after the original close date has passed. If you would like a store to be reopened, a new agreement must be completed.
We are happy to ship items directly to your supporters. Shipping fees will be charged online at checkout.
The margins are greatly dependent on how many you sell. The more you sell, the more that you will make per item. We will charge the pricing based on the bulk collection of the orders with the same design. For example, if we sell the tees for $18.00 on the store, but you sell 12 pieces, they may actually cost you $14.35. If you sold 24, they would be $11.55 each. You'll make a higher margin on the 24 quantities than on the 12.
Whatever Your Occasion, Whatever Your Cause
Whether you want to raise beer money for a camping trip or money to cure cancer, our fundraising program is perfect for you!
Contact us today to get started, there is no obligation.