---
---
---
---
---
Design Carhartt Products Online Now!
Whether you are wanting t-shirts, workout, jackets or beanies, you can easily design and customize all of our Carhartt apparel online now.
Select your garment, "Design Now", enter your quantity, recieve a quote a place your order. The entire process can be done in just moments!
Did you know that you can upload your own logo or design? If you do not have one, check out our design templates and fonts to get you started.
Need help with your design or worried your logo is not of good quality? We have an in house team of artist that can help! All orders have their artwork reviewed and a free proof is included with all screen printing or embroidery orders.
Fast & Free Shipping on ALL Orders to anywhere within the contigous US or to Military Addresses. Need it shipped to multiple office or warehouse locations? We do that too!
---
Customize Carhartt Products: But How?
Personalizing your products is super easy. Not sure which way to customize your gear? Here is a guide to help you choose: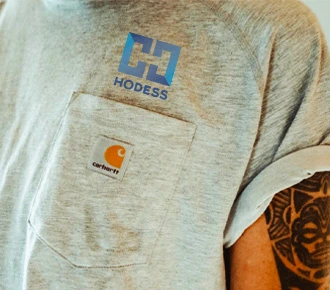 Direct to Garment Digital
Looking for no minimum printing on Cahartt products? Check out our small selection of items designed to allow you to order a single piece for your small business.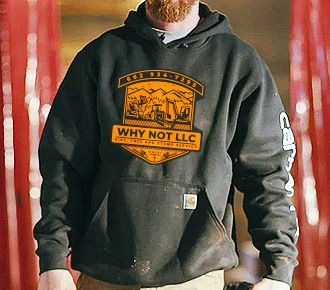 Screen Printing
Screen printing is typically going to be the preferred, most cost effective method for customizing Independent products. The more you buy, the more you save.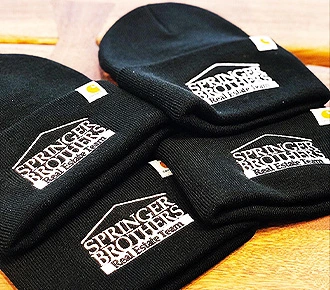 Embroidery
Carhartt embroidery adds that professional touch you are looking for for your business. We turn your design into a stitchable logo that will outlast the competition.
---
Carhartt - The Most Trusted Workwear Brand:
Rugged, Dependable, High Quality, Built to Last. What more can one want? Designed for the working folk.
Carhartt Clothing Works Hard : Carhartt may be the world's most popular brand when it comes to workwear for good reason: Custom Carhartt jackets are an employee favorite thanks to their comfort and durability both on and off the job.
Since 1889 Carhartt has been around since 1889 and is a popular American-based clothing company. Carhartt is well known for durable apparel including jackets, coats, bib overalls, hefty sweatshirts, hoodies and safety wear. Using sturdy, high quality fabrications, Carhartt has been known to last for years with high performance satisfaction.
Officially Licensed Carhartt Gear: You do not have to worry about fake products. Broken Arrow Wear is an officially, licensed decorator of the Carhartt products shown in our online catalog. With 100% money back guarnatee, you'll feel confident with your new business items.
Large Selection of Wholesale Carhartt Prodcuts: Our selection is more limited than yuo will find in retail; that is because our products are wholesale and designed by Carhartt to be customized. Create custom work shirts and Carhartt clothing - for your team or business, we dont care. Buy in bulk and save even more. You'll find your new Carhartt shirt with company logo are cheaper than retail.
Carhartt Embroidery: This is our most popular decoration method on jackets, headwear and beanies. We offer free digitizing and no artwork or setup fees on all custom embroidered Carhartt.
Looking for Tall Sizes? We do offer some of the most popular Carhartt products in tall sizes from LT - 3XLT. That includes short sleeve, long sleeve, pocket and Carhartt workwear options.
Live People - Here to Help: If you need help with your custom logo Carhartt gear, we have a team of people avaialble to assist you live! We are open Monday - Friday, 8AM to 6PM CST. Contact us today!
Frequently Asked Questions about Carhartt
While its often times assumed that Carhartt offers USA-Made products, that is generally not the case. Most products are made in Mexico unless specifically stated they are USA/Union made. Carhartt is headquarted in Dearborn, Michigan so it is a USA brand.
Yes. We have entire catalog of Carhartt apparel items, which changes almost quarterly! Now a days Carhartt workwear shirts are perfect for in office or corporate wear!
We offer embroidery and screen printing on almost any location on the garment. Most common are left chest, right chest, front, sleeves and back.
Yes, we do offer a selection of tall sizes in Carhartt. The easiest way to find all of our current offerings is to search "Tall Carhartt" on the upper left search bar.