Custom Carhartt Rain Defender® Sweatshirts, Zips & Jackets
Take your work to the next level with these Force gears. Made to last and be tough enough for any terrain.
---
Custom Carhartt Rain Defender® Tool Bags, Duffels, Coolers & More
Wheather you want to protect your clothing, lunch or toooks, we've got you covered.
---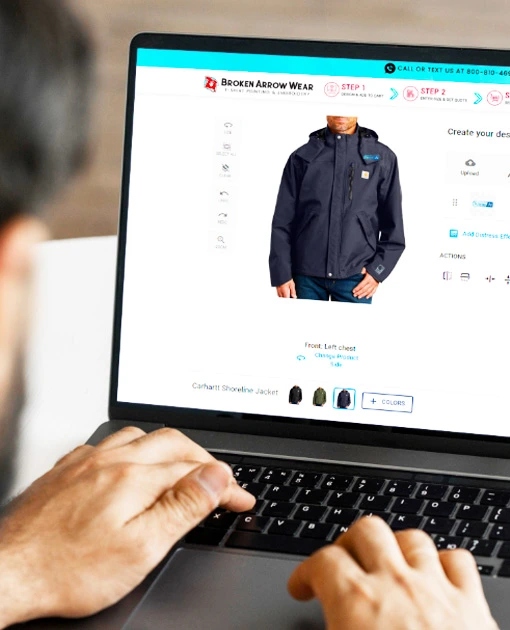 Design & Create Carhartt Rain Defender® Products Online Now
Easily design Carhartt Rain Defender® apparel online now. Upload your company design or design and add jackets, hoodies or other items.
You can customize with screen printing or embroidery. A low 6 piece minimum for both optoins!
Add any other personalization you want including workers individual names for just $3.95 per name.
Enter your custom sizes, recieve a quote and place your order.
You will never have Setup Fees and ALL orders will include Free Shipping!
Important Considerations with Carhartt Rain Defender® Products
Not all foam trucker caps are the same. Check out some things to think about when selecting the perfect custom hat with foam front. Please reach out to our customer service team if you need help selecting the perfect cap.
DWR- You'll see this term in the description on the Rain Defender products. This means "durable water repellent".
Storm Defender®- Some Rain Defender items also feature Storm Defender® technology, which is both waterproof and breathable.
Rain Defender Products Can Be Printed- Some people wonder if because of the added water proofing, they are able to be screen printed. Yes they are!
Embroidery may Compromise the Rain Defender Coating- While we do add a special solution to the product where its embroidered, the needle does puncture the product and can cause it to be a little less water resistant around the logo.