Custom Carhartt Embroidered Work Jackets
Whether you're working in the field or just out exploring the great outdoors, our line of rugged jacket are ready for anything. #adventureready 🌄
---

Custom Carhartt Embroidered Vests
We've got to go the extra mile to find the perfect fit for your unique needs. The Custom Carhartt Vest is built to handle it all, from a winter ride to your daily commute.
---

Ladies Carhartt Coats, Jackets & Outerwear
Created for the working woman in mind - designed to fit flattering but move with you.
---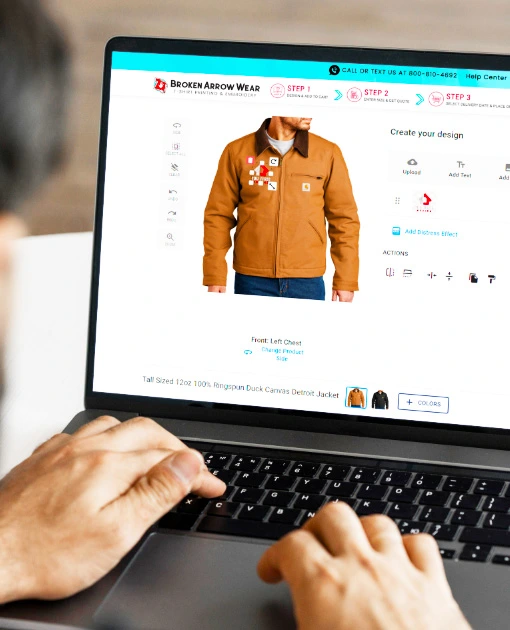 Design Carhartt Coats & Outerwear Jackets Online Now
Select your coat and click "design now". You'll be directed our easy to use design tool where you can upload your logo or use our design templates.
After you are done creating your design, add to cart, enter quantity, get pricing and place your order. All coats have a low 6 piece minimum order.
Choose from either custom embroidery or custom screen printing. Both options are great! Embroidery uses stitches where as screen printing uses inks.
Want to add your workers name to the coat? For just $3.95, you can personalize your Carhartt Coat so your customer will know who they are talking to.
All orders will recieve Fast & Free Shipping!
Important Considerations with Carhartt Tees & Workwear Shirts
Since 1889, Carhartt has been the go-to brand for company workwear for the American worker, and now you can get Carhartt work sweatshirts customized with your company logo directly from the heartland of the USA.
Customize Carhartt jackets for everyone on your team. Carhartt jackets and vests look sharp with a full back embroidery, a smaller left chest embroidered logo or design, or both.
How does Carhartt jacket embroidery customization work? Our team takes your logo or design and turns it into an embroidery-friendly file for no added cost. (We can also create a logo or design for you from scratch). Once your embroidery file is created, we send over an online proof of your custom Carhartt embroidery apparel for you to review and approve to ensure that your final customized Carhartt vest, jacket or coat is exactly to your specifications.
Many people love this durable, no-nonsense outerwear style for everyday or weekend wear. Custom Carhartt outerwear is super comfortable, easy to care for, and when temperature drops, you will love the warmth a custom Carhartt jacket provides!
Embroidered Carhartt jackets and vests are a popular choice for employees and businesses including construction, farming, plumbing, heating and cooling, landscaping, automotive, and manufacturing.