Women's Tank Tops with No Minimum Order - Typically 100% Cotton or High Cotton Content
Casual Customizable Womens Racerback Tank Tops - Made from Cotton and Blends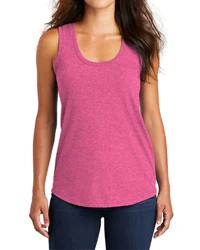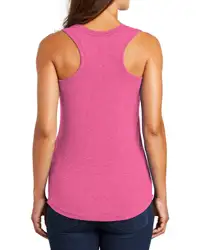 District DM138L
4.5oz Perfect Tri-Blend
$$ | XS-4XL | 13 Colors
❤ Staff Favorite
Other Fashion Forward Style Ladies Tank Tops
Women's Athletic Tank Tops & Women's Performance Tanks
---
Women's and Ladies' Tank Top Fashion Tips for Every Tank Top Style
As you can see from the Women's Tank Top catalog photos, ladies' tank tops come in different styles.
Racerback Tank Tops are one of the most popular styles. Perfect for any use, check out our plethra of options.
Flowy Tank Tops and gathered tank tops are loose fitting over your abdomen and look fabulous on most body types. Pair them with a colorful sports bra underneath or wear them layered over a tighter fitting racerback tank top. If you are looking for a women's loose fit tank top, custom flowy tank tops is the way to go.
Crop Tank Tops Crop tank top have become popular more recently because they fit the style of athleisure. You can wear them with jeans or shorts and look super trendy or wear them to the gym with your favorite leggins.
Juniors Tank Tops - Fitted Fitted tank tops are in with the younger crowd and are a really popular styles for bars and resturants. If you want to show off the ladies figure, you'll want to go for a custom fitted tank top instead of a flowy style. Fitted tanks can be racerback or standard back
Ladies Muscle Tanks also known as festivle tanks, muscle tanks offer a tank that is the closest to a sleevless cut off t-shirt. They offer a more conservative neck line but have a less conservative cut at the armpit area offering exosure to the womens bra.
Performance Athletic tanks Known for their performance fabrics and athletic cuts, athletic tanks are more favorable for working out, running or yard work. They offer a dri-fit material so you'll stay dry as you sweat it out at the gym.
Junior Tank Top Fashion Tips for Every Tank Top Style
As you can see from the Junior Tank Top catalog photos, junior tank tops come in different styles. Spaghetti strap tank tops are great for layering. Flowy box tank tops look great with a colorful sports bra underneath or layered over a racerback tank top. Festival tank tops have larger armholes and look super cute layered over another tank top or over a colorful sports bra. Tanks not your thing? We have women's t-shirts, sweatshirts and polos too! Choose from one of our many free design templates and get started now.