---
Direct to Garment Printing | DTG Shirt Printing
We have been offering DTG Shirt printing since 2012 on both colored and dark shirts, the final result will be high detail and high quality.
Similar to an inkjet printer, direct to garment printing offers really high detail, even photographic prints on shirts and other items.
We offer no minimum digital printing on over 1,000 different garments including t-shirts, hoodies, tank tops, kids and sweatpants.
We offer printing on both white and dark garments - we can even print white ink!
You will get free shipping on your order, no minimum order quantity or dollar amount required.
Direct to Garment Design Size
A standard print will be 12.5" wide x 14" tall. Opt for Oversized DTG and get 14" wide x 16" tall.
Mixed Media Available
Combine direct to garment printing with other methods such as screen printing and embroidery to make a super unique printed garment.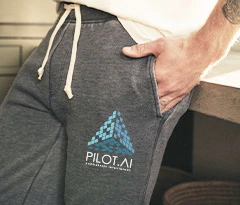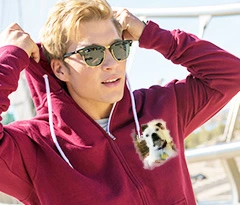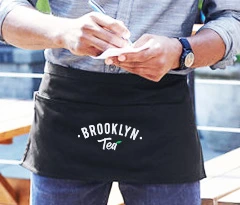 How is Direct to Garment Shirt Printing done? Let's find out!🔍
The Shirt is Pre-Treated for Increased Vibrancy
We pre-treat your garment to add a layer for the ink to sit on top of the garment.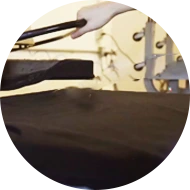 Then its Heat Pressed to Flaten Fibers
When then apply extreme heat and pressure to elimate any stray fibers that may be on top of the surface.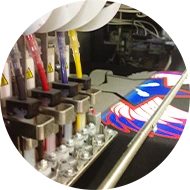 We Print and Cure the Ink
OWe then print your shirt with the dtg printer and send your garment though a hot dryer to permanently set the ink.
Things You Should Know about Direct to Garment Shirt Printing
There are a few important considerations when considering DTG garment printing;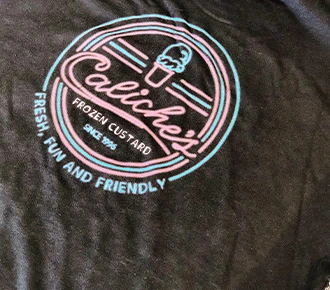 Pretreat Lines May Be Seen
To ensure the proces looks as good as possible, a pre-treat is applied to your item. It is highly recommended that you wash your garment before wearing becasue the pre-treat process can leave a litle residue. This will be gone after washing.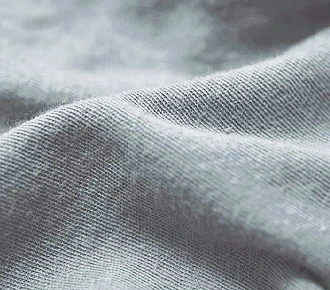 The Garment MUST be atleast 80% Cotton
DTG printing uses water based inks, which work best with 100% cotton or natural fabrics. Fabrics such as tri-blends are not possible unless specifically formulated for direct to garment printing.
Colors will not be as Vibrant
Due to the CYMK process and waterbased inks, we are not able to achieve as vibrant of printed colors. No neons or super bright colors are possible. If vibrancy is needed, screen printing will be a much better choice.
Design Direct to Garment Shirts Online
We have an easy to use online design tool in which you can design and order shirts with dtg digital printing. Here is how it works:
Check out our DTG friendly items in our "no minimum" catalog section. Pick your garment and select "Design Now"
Upload your artwork, use our clipart or design templates to create the perfect shirt or hoodie.
Finalize your design and then "add to cart". Enter in your quantity and get your free instant quote.
Once your order is placed, your custom digtal printed shirt will be delivered in less than two weeks.
Need rush services? Choose rush shipping at checkout to get your dtg items even faster than standard.
Ready to get started with Digital Garment Printing? Choose from our Popular Products
---
Frequently Asked Questions about Digital Shirt Printing
The easiest way to understand direct to garment shirt printing is to compare to your paper printer at home. Our processes uses an inkjet print head with a CMYK+ White (cyan, magenta, yellow, black and white inks) to print your design in full color on a shirt. Its like printing on paper, but a commercial way to print on a product!
Without getting into the technical side of it, DTG is best for high color designs and low quantity orders where as Screen Printing will be more economical (cheaper) at higher quantities. Check out our videos on the DTG Printing process and Screen Printing process to learn more and see the process.
Our digital printing process uses water-based inks, which are considered to be more eco-friendly than other types. The inks tend to have less vibrancy than you could get with screen printing though, so that is something to consider when selecting your shirt printing method.
Typically the alternative to digital printing is screen printing, here our the highlights of why digital may or may not work for you compared to screen printing.
Advantages:
No Minimum Order Quantity Required
Can reproduce high detail images perfectly, including photographs.
Pricing is not based on number of ink colors, one color costs the same as thousands of colors.
Very economically priced for low quantities, often cheaper when there is a high number of colors.
Disadvantages over Screen Printing:
No Specality Inks Avaiable - No Glitters, Foils, Glow in the Dark, etc.
Inks will be duller than traditional screen printing. Neons & Flourescents are impossible.
Garments must be atleast 80% Cotton, which really limits your product choices. Dri-Fit & Tri-Blends not available.
Pricing does not get near as cheap as screen printing, especially at higher quantities; typically over 24 pieces.
Design size is limited to 14" wide x 16" tall. No oversized or all over options.
We are not able to product exact PMS colors of a logo or design - we can get close though.
When done correctly, DTG printing will last years, sometimes even longer than the shirt itself! If not done correctly, your digital print could crack, fade and wash off within a single wash. While this does not often happen, please reach out to us if it does and we will offer free replacements.
Yes! Direct to Garment Digital Printing is perfect for reproducing full color photographs as we as high detail, high color images. Have a piece of artwork your kid made that you want on a shirt? DTG can do that!
Yes! Our printer has CMYK+White, which means we have a special addition of white ink. We not only use the white ink to print white in your design, we lay a base layer of white below your design for added vibrancy.
Why is it called DTG or Direct to Garment Printing
Direct to garment printing is also referred to as DTG or digital printing and is a very popular method fo garment printing. It is a great option for small quantities of custoimze apparels, hoodies and other apparel products. If you want photographic t-shirt printing, direct to garment printing could be the best choice for your design or logo! The reason it is called direct to garment printing is because the design is applied directly to the garment from the machinery as opposed to applying it to another thing like a transfer, and then applying it to the shirt. Screen printing is also a direct to garment printing method, but most know when you say dtg you mean digital prints. Digital shirt printing will retain all of the small details and colors in your image and can use as many colors as you would like in the design! Direct to garment printing uses water based ink on shirts that are at least 80% cotton, which gives a very soft feeling print you are sure to love!
Broken Arrow Wear Digital Vs. Competitors
Are all direct to garment shirt printers the same? Heck no! There are different machine manufactures and even different models within the same brands. Some print on darks, some only on lights. We use a Brother brand printing technology for our garment printer. This lets us offer a wider variety than what other printers might be able to offer. The inks, pretreat and other manufacturing processes might be different as well. If you want to see a physical sample of our direct to garment printing, we do offer them so be sure to check them out! No matter which method of printing that we offer, you can be sure that you will bet the best quality custom t-shirts that you've ever had! We often get asked how direct to garment printing is done, and we like to describe it by saying just like your printer at home! It takes CMYK ink cartridges except for its for garments and commercial printing. DTG can be a really great choice for custom t-shirt printing needs. If you are unsure if it is right for you, let our team help.