---
Customize Your Hats! Which option is best for you!?
With over 4 different customizations options available, we have options or every logo or budget. Check out our customization methods: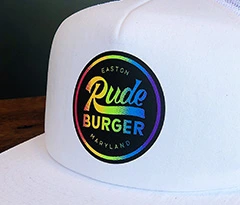 No Minimum Transfers
If you have a really high detailed, high color logo or just want a no minimum option, printed transfers are perfect.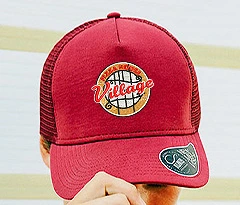 Embroidery
A process that turns your design into stitches, which is then sewn directly onto your foam trucker hat.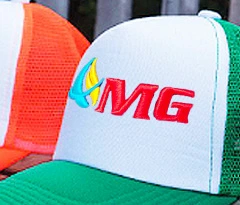 3D Puff Embroidery
Want to add some dimension to your logo? Consider adding 3D Puff Embroidery for that popular, raised look.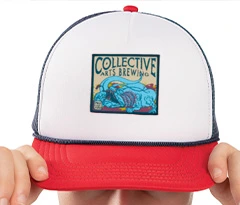 Sewn Patches
We offer both embroidered patches and leather patches in tons of oclors. Learn More about Patches.
Design Custom Embroidered Caps Online Now!
You can design quality brands custom hats right online in our free to use design tool. You can design embroidered logos and printed logos both. Choose your decoration method at checkout on on wide range of over 1,000 hats.
Embroidered hats have just a 6 piece minimum and we offer no minimum hats with transfers, which are great for high quality, high detailed designs.
We always offer fast and free shipping, on every order. Sick of paying setup fees? We always have free digitizing and no artwork or setup fees on custom hats orders.
Need assistance? Our amazing customer service team is here to help. We are live, Monday - Friday, 8AM to 6PM CST. Want to chat with us? We never use bots, you'll get a real person.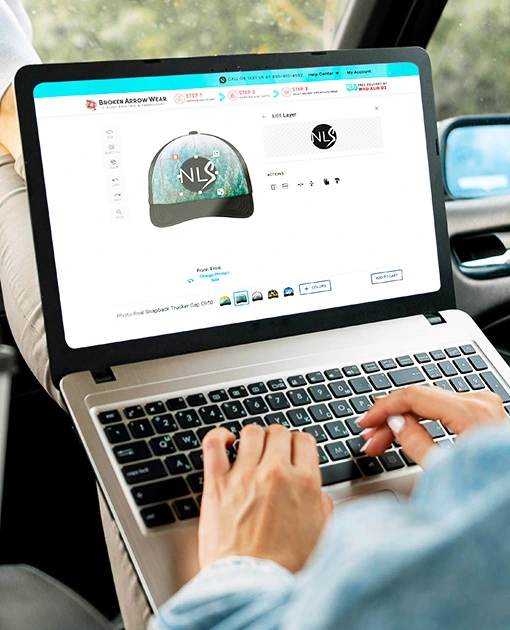 ---
Customizable Hats & Headwear: Learn More
Designing and creating a custom hat is really easy and can be done online! We offer both standard embroidery and 3D/Puff embroidery. 3D puff embroidery offers you that raised look for your headwear that is so popular in MLB, Streetwear and Retail. Check out our different hat styles listed below to find the perfect hat for your company or group.
Snapback Caps - The most popular adjustable hat in the world. Snapbacks provide a plastic closure that your hair doesnt get stuck in. A wide selection is available including dad caps, low profile and flat bill. No minimum options available.
Dad Caps -Perfect for business, teams, ladies and casual wear. With an adjustable buckle and low profile, they will fit everyone in your group or family. Flat embroidery recommended.
Flexfit Hats - The preferred style for teams, Flexfit hat comes in typically 2 sizes instead of the traditional many size fitted caps. Brands like New Era and Richardson offer similar options like R-Flex and Stretch Fit.
Meshback Caps - Stay cool and get a hat with a mesh back. Various adjustable options and styles available. Athletic and moisture wicking options are available for even better performance.
Eco Friendly & Sustainable - We have hand currated a selection of eco-friendly and sustainable hats. Sourced with organic cotton or recycled polyesters, these hats are high quality and great for the earth.
Beanies & Stocking Caps - Offering more than just your basic ole beanie! Cuffed, Pom-Pom, Slouch, Fleece Lined & More.
Bucket & Booney Caps - More popular than ever before, buckets have become a street wear stable. Protect yourself from the sun with a classic outdoor booney.
Visors - Visor hats are perfect for teams, groups and outdoor wear to keep you cool but the sun out of your face. Offering budget brands to Nike.
Tons More Hat Styles - We also offer specality hats including USA Made, Distressed, Foam Trucker Caps, Performance & Rope hats. Cant find what you want? Our customer service team can help!
No Minimum Hats - If you are looking for a single piece or no minimum order hat, we have you covered. Transfers offer no minimum order and custom embroidery and puff embroidery have just a low 6 piece minimum.
Custom Embroidery is a great way to promote your business or company logo. Your personalized hat will be delivered directly to your door with fast and free shipping. Our online design team will review your order when placed to ensure you'll get a quality custom embroidery design on your ball caps.
---
View the Custom Caps Process
We wanted you to see the process in which we create your custom trucker hats.
From start to finish, we take great care while making your custom embroidered cap. From the artwork team to the final quality control, you can count on high quality embroidery and products.
We also offer 3D Puff embroidery on hats, choose that at checkout if you want to add some dimension to your design.
Did you know we have a money back guarantee no your baseball cap order as well as cheap, wholesale pricing? You'll never have to worry when purchasing from Broken Arrow Wear.
---
Frequently Asked Questions about Custom Hats Embroidery
The cost of an embroidered hat order depends on the number ordered and the product selected. The more you order, the less they are so consider ordering in bulk if you have a use. If you choose choose a value brand such as ValuCap, your pricing will be less than if you choose a known brand such as Richardson or New Era. To give you an idea, an order of 24 ValuCap Dad Caps would be $15.97 each. Free Digitizing & Free Shipping is included on all orders.
In addition to sewing on the front of the hat, we can sew on the back and side of the hat as well! We are not able to sew on the bill, that typically needs done prior to the hat being sewn together.
With our standard turn around, you can receive your hats quickly within 2 weeks. We do have rush services as well.
We have a specalized team of artist that take your file and turn it into a stitchable design, which is known as digitizing. We tell the machine what to stitch including color, thickness, stitch type and more. We offer free digitizing on all orders.
Our #1 selling hat is the Richardson 112 Mesh-Back Trucker Cap. Its popularity is due to the great fit, and with over 99 color choices, there is a color to match almost all teams, schools or business logos.
The difference is that 6-Panel caps have a seam directly down the front where 5-Panels do not. 5-Panels are better for screen printing a cleaner design.
That is referring to the stiffness on the front panel of the hat, which is created with the addition of buckram backing. An unstructured hat has no backing or support, so it will typically lay more flat on your head.
We do! We offer custom digital transfers with no minimum order for the print method on hats. Check out our No Minimum Printed Hats
Hook and loop closures can more commonly be known as Velcro..however, Velcro is a name brand so that term can only be used when its that brand of Hook & Loop.
One thing is for sure, ladies do not want embroidered hats with hook and loop or velcro closures. Talk about a bad waya to get your hair pulled...ouch! Women tend to prefer dad caps due to not only their tri-glide closure, but due to the lower profile that lays more flat on their head.