New Era 39Thirty - New Era hats featuring a Stretch Fit Closure
New Era 9Fifty Hats - New Era Hats with a Flat Bill
New Era 9Fourty Hats - New Era hats with a Flat Bill Brim
New Era 9Twenty - the 9Twenty line features caps with a d-clip adjustable closure.
New Era Youth Caps - Perfect for youth baseball teams and smaller heads, these will have matching adult hats.
New Era Beanies - Cuffed Beanies, Pom Beanies and Standard Beanie Stocking Caps
---
Customize New Era Hats with Printed Transfer, Embroidery, 3D Embroidery or Patch
While we only offer embroidery on New Era beanies, New Era hats have a variety of customization options.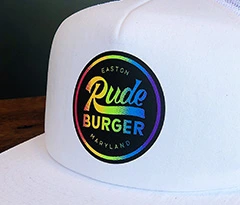 Printed Transfer
If you have a really high detailed, high color logo or just want a no minimum option, printed transfers are perfect.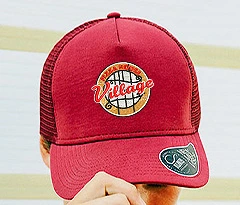 Embroidery
A process that turns your design into stitches, which is then sewn directly onto your New Era cap.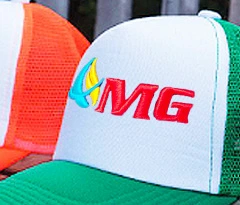 3D Puff Embroidery
Want to add some dimension to your logo? Consider adding 3D Puff Embroidery for that popular, raised look.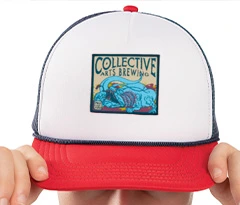 Sewn Patches
We offer both embroidered patches and leather patches in tons of oclors. Learn More about Patches.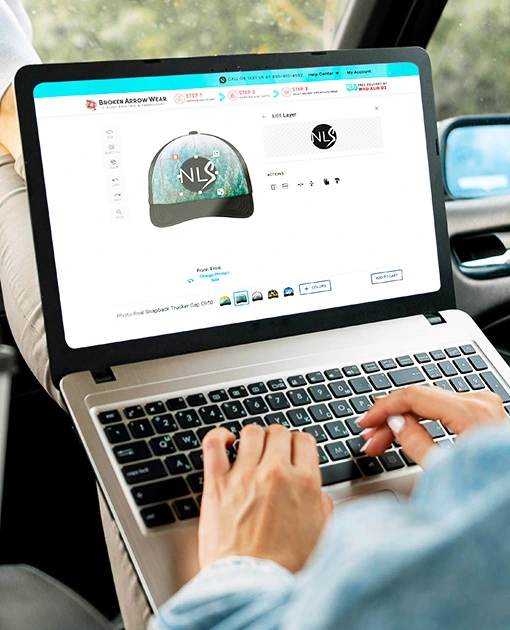 Design & Create New Era Hats & Beanies Online
With our easy to use online design tool, you can create your cap - its super easy. Upload your logo and create your design.
Once your design is finalized, click add to cart to be taken to the page where you enter your quantity and choose your personalization method.
Be sure to check out the bulk quantity pricing breaks, all of our New Era's are wholesale priced so they will be cheaper than retail.
Enter in your address to get free shipping and place your order.
You'll recieve an online proof to review and approve within 1 business day and your items delivered to your door quickly.
Learn More about New Era Brand Caps
If you are looking for a New Era specific line of caps, but are not sure which one, check out our little guide below. Find which on fits your needs and then choose from our hand currated selection above.
New Era 59Fifty- The original style of New Era, this line features the traditional fitted hats with ultimate street style. While we do not offer any of this line, its due for good reason! Most people do not know their fitted hat sizing, so check out the 39Thirty line with stretch fit to make group buying easier.
New Era 9Fifty- The classic New Era Flat Bill Snapback style! Embroidery above the open back for a total customized look. Want something even more unique, add 3D puff embroidery to get that same raised look as you see on MLB hats.
New Era 9Twenty- This line has an adjustable d-clip backing. This is most well known as a "dad cap". Features a low, soft profile. Perfect for casual use. Dad caps are also ladies favorite cap styles.
New Era 9Fourty- this is New Era's core adjustable hats. A one size fits most style, they can have a variety of backs including hook & loop. A perfect choice for those who do not want to collect hat sizes.
New Era 39Thirty - this line of hats offers New Era's Stretch Fit technology giving you a fitted hat that is flexible and will fit more heads than a traditional fitted cap. Way easier than traditional fitted sizes when buying for a team.
New Era 39Thirty - Keep in mind that these caps offer from front panels, but more traditional harder plastic on the mesh like traditional mesh back trucker hats.
New Era Beanies - If you are looking to stay warm this winter, check out the cuffed knit hats and New Era's unique, wholesale designed line of beanies and winter stocking caps.
Frequently Asked Questions about Customizable New Era Hats
While we do not have any no minimum New Era hats, we do have one of the lowest minimums at just 6 pieces for custom embroidery.
No, we do not have any of the New Era 59Fifty but we do offer New Era 9Fifty, which are stretch fit hats. Stretch fit hats are easy to order for groups since they fit a larger range of heads within a single size.
New Era 9Fifty caps usually have a snapback as the adjustable closure where as the New Era 9fourty typically has a hook and loop closure (velcro) or adjustable strap.
Designing and customizing New Era hats online is super easy. Choose your hat from our wide selection and select "Design Now". From there, you can select your hat color, upload your logo or use our design templates, and complete your order.
The NE400 is a Flat Bill Snapback that offers more urban, old school style fit made of cotton. The NE402 is the Original Fit Flat Bill, and is New Era's most popular style. The NE402 is made out of 100% polyester materials, so it is a better performance cap. While the two are really close in pricing, the NE402 is slightly less expensive.
We Are Here to Help!
If you did not get all of your questions answered here, or need help selecting and creating a New Era hat or New Era Beanie, please le us know. We are here to help you with anything you might need. Our live customer service team is available from Monday - Friday, 8AM to 6PM CST. You can email us anytime at info@brokenarrowwear.com.