Custom TravisMathew Hats & Beanies
Stay in the loop with this TravisMathew cap. It's got embroidery, and a TravisMathew logo so you're always on point with your style and swag.
---

Customizable TravisMathew Polo Shirts
Whether you need gear for the course or to wear in the office, TravisMathew polos offer high quality in various fabrications.
---
TravisMathew Sweatshirts, Full Zips and Outerwear
The perfect layering piece for your wardrobe. These high quality, soft fabrications will keep you stylish and comfortable.
---

TravisMathews Shorts
Complete your look with these shorts. Wrinkle resistant, quick-drying and stretchable fabric.
---

TravisMathews Ladies & Womens Products
Designed to be a perfect, flatting fit for all women. Standard, retail fit sizing.
---
Customizing TravisMathew Products
Not sure which method you want to use to customize your TravisMathew item? Here is a guide to help you choose: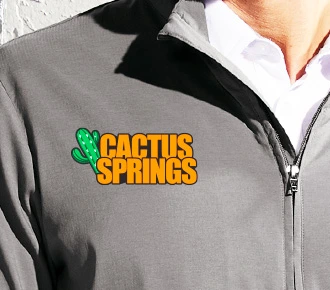 Screen Printing
A perfect, lightweight customization method to ensure your TravisMathew polos stay as breathable as possible. Great for larger designs and sleeve prints. Low 6 piece minimum.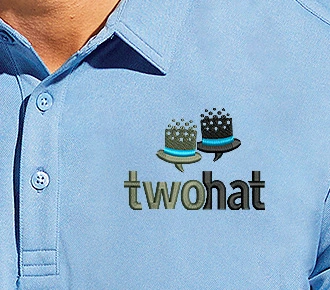 Embroidery
The most popular choice, embroidery adds that professional, high end touch that inks do not. Sew on left chest, upper back and sleeves. Free Digitizing.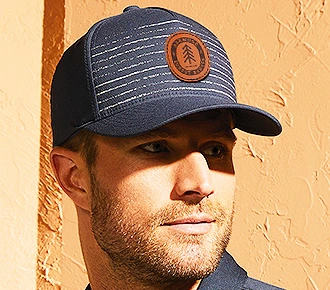 Sewn Patches
Popular on hats, patches come in both leather and embroidery options. We will sew the patch to your item. Please allow 2 additonal weeks for turn-around times.
---
Fun Facts about the TravisMathew brand:
Designed by golfer Travis Johnson (Mathew is his middle name) TravisMathew custom embroidered apparel is designed to move with you. Both stylish and classy, custom TravisMathew apparel offers those extra touches golfer's love but is versatile enough to go from work to play.
With a smart blend of performance and innovative design, each TravisMathew designed product is crafted to achieve a perfect balance between functional comfort and superior style, making it the go-to brand in your closet.
Customized TravisMathew premium fabric blends provide style, performance, and comfort, while the technical fabrications are engineered to perform.
Athletes, celebrities, entertainers and people from every walks of life appreciate the TravisMathew brand for its style, comfort, and value. In fact, many of the items in our catalog can be seen on your favorite golf players Keegan Bradley and Will Gordan.
You'll love TravisMathew apparel embroidered or screen-printed with your logo, name, or design. Order your's today and be wearing this brand favorite next week.
Design & Customize TravisMathew Online Now!
All of our TravisMathew's products are available to be design online in our easy to use design tool.
Upload your company logo or create one! In our easy to use design tool, we have clipart, fonts and templates to choose from.
Once you have created your design, you can enter in your sizes to recieve an instant, wholesale priced quote with built in quantity based discounts.
With our wholesale prices, your TravisMathew polos and hats will often times be cheaper than you can buy the items blank in your favorite retail store.
Need help or have questions? Our customer service team is available live to answer your questions: Monday - Friday, 8AM to 6PM CST.
Frequently Asked Questions about TravisMathew
TravisMathew is actually referring to golfer TravisMathew Johnson, a former PGA Golfer. The name was concieved when he was at a bar and the bar tender said "Travis Matthew, that's cute". He knew at that moment that would be the name of his brand. He removed one T in Matthews so it was a little different than his actual name.
While it a line created by a golfer, for golfers, its so much more than just a golf brand. Its designs are created with lifestyle performance in mind. With TravisMathews, you get comfort, style and quality.
Started by Travis Johnson, it was such a success he sold it to Callaway Golf Company in late 2017 for 125.5 million.
We recommend embroidery on all hats, not just TravisMathews. It offers a higher end, more professional look.
Travis Mathew can be purchased in popular retail outlets such as Dick's Sport Goods, Golf Galazy and Nordstroms. You can also purchase it wholesale with your own custom logo embroidery or decoration here!
Yes! We are an official wholesale TravisMathew dealer. We do require all of our products are custom embroidered or screen printed before leaving our door. Often time, your custom embroidered Travis Mathews hats, jackets or polos are cheaper than you can buy them retail.