Our Top Selling, Customer Favorite Beanies
With name brands like North Face & Carhartt, you know you are good a top quality, warm product. These our the top selling customized knit caps.
---

Best Budget Pick Knit Hat
What is our cheapest beanie? We have looked through our huge catalog to find the cheapest options for your group or team for each beanie kind.
---
The Best Stocking Caps for Warmth
Form meets function to create not only a good looking beanie, but one that offers great warmth. These winter hats will keep your head warm in cold weather.
---

Best Eco-Friendly & Sustainable Beanie Caps
The pressure for corporate responsility has made your favorite brands evolve to more eco-friendly, sustainable product offerings. Organic and Recycled Polysters will make you feel good while looking good.
---

Our Favorite Chunky & Cable Knit Beanie
With the popularity of style, these style of beanies are back and in high demand.
---
Our Favorite Knit Beanies for Ladies
Design with style and ladies fit in mind, these are our favorite ladies beanies and stocking caps.
---

Honorable Mention - Other Beanies We Love!
Looking for something different? Check out beanies that we love because they are not like everything else!
---
Design Your Own Beanie Online
Create custom personalized beanies in our online design tool in minutes. Upload your logo or artwork, get an instant quote and purchase all online.
Every beanie order comes with free shipping and one of the fastest standared turn around times in the industry!
No Artwork Or Setup Fees, EVER.- You will never pay us for setup fees thanks to our all-inclusive, easy to understand pricing structure.
Your beanie hats can have as many thread colors as you want, and better yet, the pricing is the same whether you embroider one color or multiples
Our customer service team is here to help. Chat with us live, call us or text us at 800-810-4692, or shoot us an email. Whatever works for you, works for us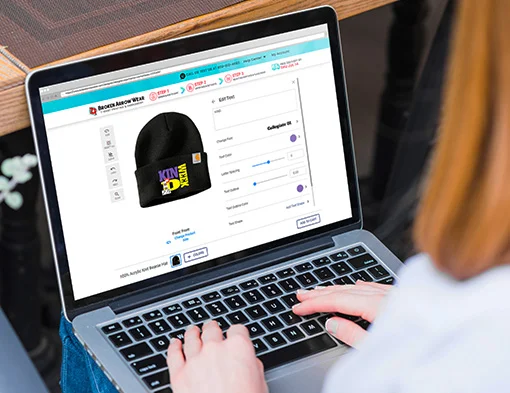 ---
Styles of Beanie Stocking Caps
---
High Quality Custom Embroidery on Stocking Caps & Beanies
An embroidered design is stitched with thread instead of printed ink which is provides a better result for a knit/dense/non smooth material. It gives off a high quality, professional vibe.
How it works:
Design and customize online, enter quantity, get quote and then purchase.
Turnaround Time:
Delivered in less than 2 weeks - for free!
---
Custom Beanies & Stocking Caps: Learn More!
Its hard to get all of the great information to you about our custom embroidered beanies, here are some other important points we want to let you know about. Did you know that we offer every customer wholesale prices and bulk, built in discounts? You'll get the best possible pricing and the cheapest beanie possible. With more customization options than you want, we know you'll find something you love.
Looking for Beanies with Patches?- We do that too! We offer both embroidered and leather patches that can be applied directly to your beanie. Learn More About Patches
Want Custom Labels or Hang Tags?- We have a ton of options when it comes to relabeling your product including woven labels, printed transfers and custom hang tags. Ask our team and we will guide you on what makes sense for your project.
No Minimum Customized Beanies? - We have low 6 piece minimum embroidery order, but we do offer one option for a single piece beanie. We can do a printed tranfer on our Patch Hat Beanie
Screen Printing on Beanies? - Knit caps generally have a ribbed material on them so they can stretch and form to your head. After all, they are "one size fits all" products. Screen printing tends to stretch and crack when applied to a beanie. Ask our team if screen printing is an option on your stocking caps.
Frequently Asked Questions about Custom Beanies
Beanie became one of the most popular terms for knitted stocking caps in the 1950's when a cartoon called "Beanie and Cecil" became popular. The boy in the cartoon wore a beanie with a propeller on top, and Cecil, his best friend, was a seasick sea serpent who often saved Beanie Boy from the perils of life.
They are generally considered to be the same thing. Other names for beanies include knit caps, knit hats, stocking caps, sock hats, tassel caps, ski hats, burglar beanies, snookie caps, skull caps, dinks, and dinkies (no we didn't make that up).
Once your order is placed, our customer service team will review your logo to ensure that it can be turned into stitches. We then send your artwork over to our embroidery specialists who do just that, which is know as digitizing. Once that process is complete, we will send over your free artwork proof for review. You can make changes to your logo or design or approve it, all online. We will then calibrate our embroidery machines, hoop and load your stocking caps and sew your design. Once that is complete, it will go through a high quality finishing process including trimming, cleanup and final inspection.
Yes! With over 50 heads of embroidery, we can handle low minimum orders of 6 pieces, all the way to large orders of thousands!
Yes! We do offer both custom embroidered patches as well as leather patches. To learn more, which out our Custom Patches page.
The price can vary based on quantity and beanie selected, but to give you a starting spot, you can get 12 embroidered beanies for just $18.75 per beanie.
We do not recommend or offer screen printing on beanie caps. When you stretch the cap on your head, the ink would stretch as well causing it to look broken and yucky.