Eco-Friendly, Organic & Sustainable Cuffed Beanies
These beanies will help you to keep warm in style. Made from 100% natural, organic materials you'll feel like a million bucks when wearing them. 🌱 💚
---

Eco-Friendly & Sustainable Beanies without a Cuff
Look so cool and hipster that you feel like the coolest guy in the world.
---
Design & Customize a Cuffed Beanie Online Now
Selected a solid, waffle knit or other cuffed beanie style. Hit Design Now to get started! Upload your logo or use our design templates.
Create your custom embroidered design and add to cart. Enter your quantity and get instant pricing. Add your shipping address and complete your order.
We have no artwork or setup fees, including free digitizing! Fast & Free Shipping on all orders within the contigous United States.
Personalized cuff beanies are perfect for a team spirit, advertising your business or for a fun thank you gift for clients.
Our customer service team is here to help. Chat with us live, call us or text us at 800-810-4692, or shoot us an email. Whatever works for you, works for us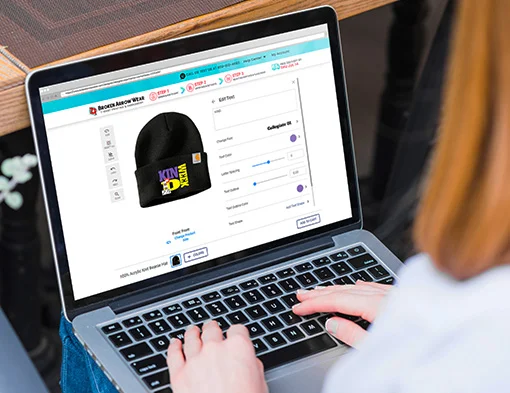 ---
Eco Friendly Beanies: Want to Learn More?
Choosing to purchase a beanie made from sustainable, recycled or organic fabrics is a great way to help the environment. You are preventing waste from entering into the landfills all while looking great in your sustainable embroidered beanie.
Have you heard of Polylana®? Polylana is a fabric that is used generally instead of acrylic.
Eco Friendly beanies tend to not only be really fashionable, but they are also really affordable. In the past eco friendly beanies were considered more expensive, that is not the case today and can even sometimes be cheaper than a standard beanie.
These sustainable beanies are typically made from 100% recycled polyesters and fabrics. Some even comply with the Global Sustainable Recycled Standard (GRS) system for tracking your fabrics.
Due to the ribbed fabric, embroidery is the most recommended print method on recycled beanies. Your design and logo not only look great, but give off a high end, professional vibe.
Chose from popular brands like The North Face & Atlantis Headwear! If you need help selecting the perfect eco-friendly option, please let our customer service team know. Fast & Free Shipping and Free Artwork services on all orders.
---
Frequently Asked Questions about Sustainable Beanies
Our selection of eco-friendly beanies are made from at least 50% recycled materials, organic cotton or made of Polylana®. While some people claim their items are sustainable, they might have only 5% sustainable materials, so be sure to read the fine print.
They do tend to be a bit more expensive to produce or in the case of organic cotton, grow. The pricing for an eco friendly product will be a little bit higher, but often as little as 10% or less. Don't you think its worth it to save the planet?
We offer custom embroidery on all of our beanies. Screen printing is not recommended due ot the stretch. We also offer patches!