Solid Knit Standard Cuffed Stocking Caps
Our customers keep going back to the same ole items because they love them and the value is great. Check out our top selling solid cuffed beanies:
---

Best Budget, Value Basic Stocking Caps with a Cuff
No need to search through all of our cuffed beanies to find the cheapest, we've done that for you. These are the cheapest cuffed beanies in our catalog:
---

Cuffed Beanies with Color Block, Striping & Other Fun Patterns
While solid beanies are classic, they are a little more boring. Adding a stripe or pattern to the fabric can spice up your look. Check out our favorites:
---

Chunky, Cable Knit & Waffle Knit and Textured Cuffed Beanies
Retail has made stocking caps more interesting. With different textures and weaves available, you can get something a little more fancy. Check these out:
---
Design & Customize a Cuffed Beanie Online Now
Selected a solid, waffle knit or other cuffed beanie style. Hit Design Now to get started! Upload your logo or use our design templates.
Create your custom embroidered design and add to cart. Enter your quantity and get instant pricing. Add your shipping address and complete your order.
We have no artwork or setup fees, including free digitizing! Fast & Free Shipping on all orders within the contigous United States.
Personalized cuff beanies are perfect for a team spirit, advertising your business or for a fun thank you gift for clients.
Our customer service team is here to help. Chat with us live, call us or text us at 800-810-4692, or shoot us an email. Whatever works for you, works for us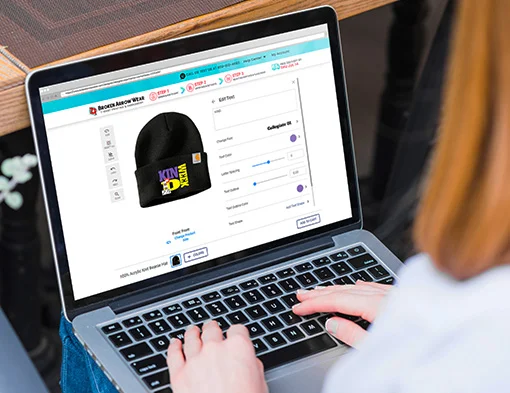 ---
Cuffed Beanies & Cuffed Knit Stocking Caps: Want to Learn More?
There are some really awesome benefits to polyester fabric but there are also some down sides. Here are the most important points for you to consider:
A cuffed beanie will offer added protection of warmth around the ears as it will provide a double layer.
Custom cuffed beanies also look stylish and stay on your head when you are doing strenuous activities, such as skiing or snowboarding.
Adding an embroidered design on the cuff also makes the design more prominent and will give your business or event logo a little extra advertising for a super cheap price.
Cuff the beanie once with the cuff facing out. Some of the custom beanies shown actually have a sewn-in-place cuff, others can be custom cuffed to the thickness that works best for you. Most cuffs extend an inch-and-a-half to two inches.
One of the great things about a cuffed beanie is that it looks great even if you are having a bad hair day.
---
Frequently Asked Questions about Customized Cuff Beanies
Put the custom embroidered beanie over your head. It should sit on your forehead a little above your eyebrows creating a downward angle to your back. Make sure the beanie cover your ears so it helps keep them warm. This fuss-free beanie style looks great on everyone and helps keep you warm when the temperature outside drops.
You can, but it is generally not recommended. Many of the cuffed beanies have a pre-fold line that helps to keep the shape of the fold. It is more common to turn a slouchie beanie into a cuffed beanie. We also embroider the beanie on the cuff, so it would not look good worn down.
Generally, no. Beanies tend to have ribbing to allow for different head shapes. The printing will look cracked and stretched when it spreads out when wearing. Embroidery does not.