Solid Colored Beanie with a Pom-Pom
If you want a cusotm pom pom beanie that really showcases your logo or design, check out our selection of solid pom beanies.
---

Pom Beanies with Stripes, Color Blocking & Designs
These pom beanies feature fun designs and colors to add fashion and flair. Choose from logo colors, team colors or just a color you love!
---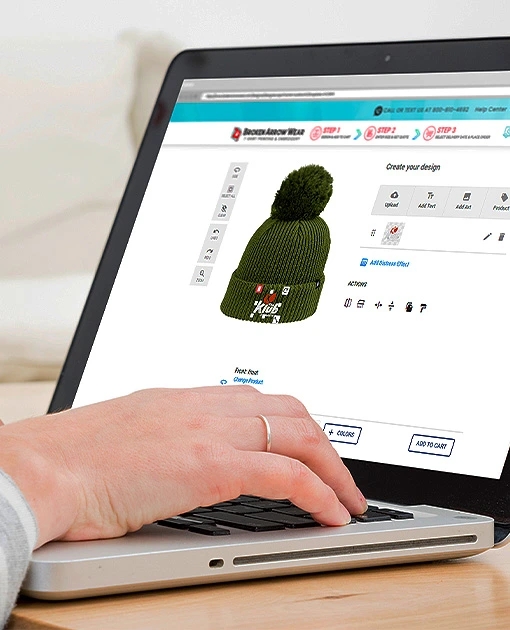 Design a Pom Pom Beanie Online Now
You can easily design and customize winter hats, including pom pom hats online now. Upload your logo or use our design templates!
We always recommend that you customize winter hats with embroidery due to the knit fabric that is intended to stretch around your head. We will automatically price you for embroidery.
If you are wanting the warmest knit hat possible, look for fleece beanies or lined knit hats. You'll keep your head even warmer and stay warm in the cold winter weather.
We offer free digitizing (no artwork or setup fees) and offer fast and free shipping to anywhere in the contiguous United States. We do ship worldwide, shipping fees will apply.
---
Pom Pom Beanies: Want to Learn More?
Beanies with cute little round tuffs of fur or yarn on top are referred to as pom pom beanies, pompon beanies, and pom beanies. "Pom pom" is derived from the French word Pompon. The more you know!
The Pom of the beanie may be made from different materials. The most popular materials are acryic and faux fur. Acrylic will typically match the material of the hat for faux fur will give it a more snowbunny look - Faux Fur Pom Beanies are typically more geared toward women.
Not only are pom beanies totally functional to keep your head warm, custom embroidered pom pom beanies are super stylish and look great with fur collared jackets and wool coats.
Pom Pom hats are typically made from 100% acrylic fabric, which stays nice and dry, even when sweating. They could also be made from poly/cotton blends or other meterials. Check the description on the knit hats your interested in.
Looking for other types of beanie hats? Check out our entire collection of winter hats including cuffed, non cuffed and fleece lined.
There are different sizes of poms. While most are standard sized, watch for descriptions such as Oversized Pom or Large Pom as that will be larger than standard.
---
Frequently Asked Questions about Custom Pom Beanies
It is believed poms were originally created to cover the gathered seams at the top of a knitted beanie. Some say the pompon caps originated from the Vikings, who wore custom pom pom beanies as part of their uniform. Custom Pom Pom beanies were also part of the Scottish Highland uniform. Sailors started wearing the pom hats possibly because when there were rough seas, the poms gave them extra protection from bashing their heads.
Originally thought to protect sailors from bashing their head, pom pom beanies are nothing more than a fashion statement. They have no actual use as they were once intended for. They are still fun though!