Foam Front Flat Bill Caps
Sport the retro, trendy style of a foam front flat bill. A casual and versatile option with sun protection in many colors.
---

Mesh Back Flat Bill Trucker Caps
Traditionally a snapback closure, these mesh back hats will be cooler for year round use.
---

Flat Bill Caps with Standard Back
Choose from 5-Panel, 6-Panel and 7-Panel Options. These non-mesh back caps are a staple.
---

Flexfit® & Fitted Flat Bill Hats
Fitted hats made a heck of a lot easier. No individual hat sizes, choose from S/M, L/XL and even XXL.
---
Customize Your Flat Bill Hats! Which option is best for you!?
With over 4 different customizations options available, we have options or every logo or budget. Check out our personalization methods: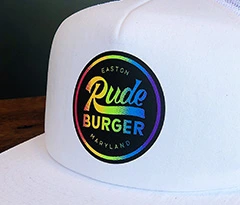 No Minimum Transfers
If you have a really high detailed, high color logo or just want a no minimum option, printed transfers are perfect.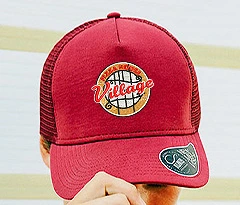 Embroidery
A process that turns your design into stitches, which is then sewn directly onto flat bill trucker caps.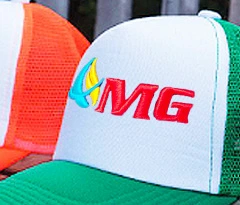 3D Puff Embroidery
Want to add some dimension to your logo? Consider adding 3D Puff Embroidery for that popular, raised look.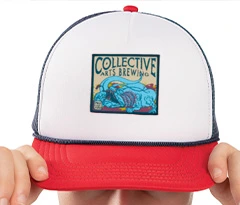 Sewn Patches
We offer both embroidered patches and leather patches in tons of oclors. Learn More about Patches.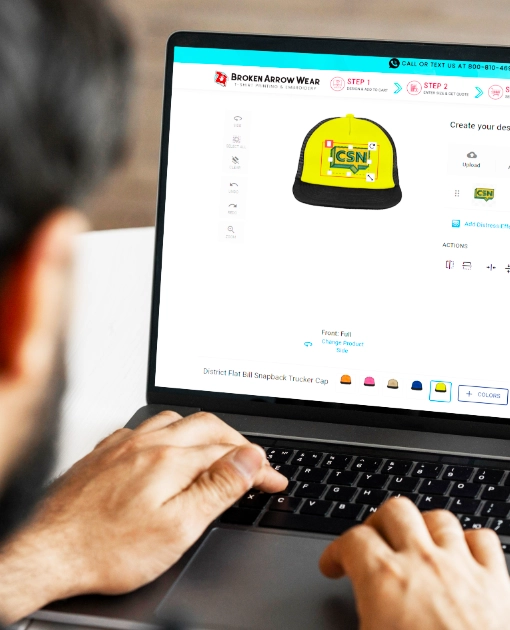 Design Custom Flat Brim Truckers Online Now!
You can design and customize all of our flat bill caps in our easy to use, online design tool. When you get to checkout, you can choose from embroidery, 3D or embroidery or no minimum transfers (if applicable).
Have a tight budget? We offer non-retail brands that will be lighter on your budget! Choose from the brands: District, Big Accessories, Mega Cap, Sport-Tek & Port Authority.
Do you want a name or retail brand hat? Choose from: New Era, Richardson, Yupoong, Carhartt, Imperial or Pacific Headwear. Did you know we even offer sustainable flat bill cap options? Pefect for the eco-friendly user.
Uplod your logo or team design! If you dont have one, no problem. You can create anything you want with our clipart or upload yoru own feature.
Why we love Flat Brim Hats: Style meets Function! They can accessorize any outfit for added style or get protection from the sun and other elements with the ultimate in function.
You will never have Setup Fees and ALL orders will include Free Shipping!
Flat Bill Hats - Learn More About the Styles
Flat bill hats seem to be one of the most trendy style of caps going in and out of style every few years. While typically popular with the younger crowd, you might see older generation wearing them as well depending on their popularity. Almost all customization of flat bill caps is done with embroidery of some sort while many customers opting to go with 3D embroidery. Most all major hat manufactures such as New Era, Yupoong, Flexfit, and many more offer at least one flat bill style cap to choose from.
Flat Bill Snapbacks- Snapback style custom flat bill hats have that traditional plastic closure that comes together via snaps. One of the most popular styles to avoid sizing concerns.
Mesh Back Flat Bills - Mesh backs are making a comeback! Traditionally used in Trucker Caps, meshbacks have become a really trendy option for the comfort and coolness. Much of your body heat is retained or lost through your head so if you have that mesh back for the heat to escape, you'll stay cooler.
Flexfit Fill Bill Caps - Flexfit is an awesome technology created by Yupoong. Fitted hats in the past came in so many various sizes it made it extremly hard to figure out how to buy bulk for groups. Flexfit products are typically offered in S/M & L/XL sizes which make it super simple and universal. Flexfit technology is not only offered in Yupoong branded caps but is also licensed to popular brands like New Era, Outdoor Cap & Sport-Tek. Other brands carry similar concept hats such as Pacific Headwear's Pacflex or Richardon's R-Flex.
Foam Trucker Flat Bill - Not just for farmers anymore! Foam trucker hats have been making a come back and are being used as a fashion statement for trendy brands, teams and even in schools. Any flat bill foam hat can be formed with a curve making it easy to accomadate everyone. We offer no minimum flat bill options so you can truly get a single, one of customized flat bill snapback hat. Typically one of the cheapest options as well.