Foam Trucker Caps with a Pre-Curved Visor
Flat Bill Foam Trucker Caps - Designed with a Flat Bill in Mind
---
Customize Foam Snapbacks with a Printed Transfer, Embroidery, 3D Embroidery or Patch
With over 4 different customizations options available, we have options or every logo or budget.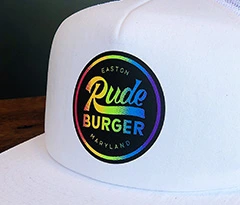 Printed Transfer
If you have a really high detailed, high color logo or just want a no minimum option, printed transfers are perfect.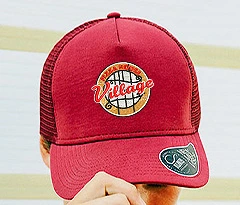 Embroidery
A process that turns your design into stitches, which is then sewn directly onto your foam trucker hat.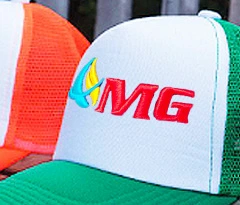 3D Puff Embroidery
Want to add some dimension to your logo? Consider adding 3D Puff Embroidery for that popular, raised look.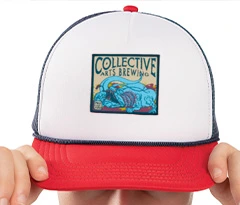 Sewn Patches
We offer both embroidered patches and leather patches in tons of oclors. Learn More about Patches.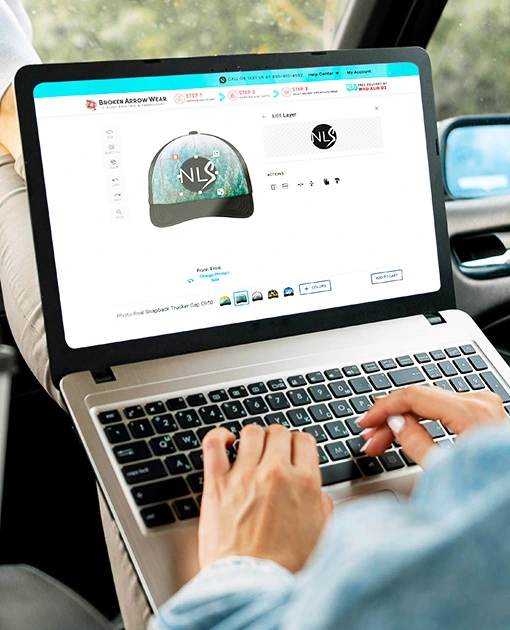 Design & Create Custom Trucker Hats Online
With our easy to use online design tool, you can customize your foam mesh hat online in minutes. Upload your logo or use our design templates and clipart.
After you create your design, you can choose your personalization method, enter quantity and get an instant quote.
You can even order multiple colors of hats with the same design and get a cheaper price with our built in quantity based pricing.
Need your foam hats super fast? We offer rush services to get your order delivered in 3-4 business days or less.
You will never have Setup Fees and ALL orders will include Free Shipping!
Important Considerations with Foam Trucker Caps
Not all foam trucker caps are the same. Check out some things to think about when selecting the perfect custom hat with foam front. Please reach out to our customer service team if you need help selecting the perfect cap.
No Minimum Foam Truckers Available- If you select and order less than 6 pieces, you will automatically recieve a printed transfer as that is our no minimum order option. We offer custom printed, dye cut transfers.
Adjustable Snapback is the only Closure Available- If you are looking for a hook and look, tri-glide or other closure, you will have to choose a hat with a twill or polyester front. Our Foam truckers only come with a snapback closure.
5-Panel Front Only - 5-Panel caps do not have a seam down the front where as 6-panels do. The 5-panel creates a little point, which some do not love. Foam hats are not available in 6 panel styles.
All Foam Hats have a Structured Front- If you want a flimsy or not so stiff front for your hat, you'll have to change from a foam to a different front material as all foam hats have structured fronts.
Low, Mid & High Profile Foam Hats Available - Be sure to check the profile of the hat becasue we do offer all three - low profile, mid profile and high profile. The higher the profile, the more your foam cap will stuck off your head.
Foam is Only the Front - Keep in mind that these caps offer from front panels, but more traditional harder plastic on the mesh like traditional mesh back trucker hats.
Frequently Asked Questions about Snapback Caps
We are able to screen print on a single color on a white foam cap. Not what you are wanting? We do offer digital custom transfers! This gives you a way better result than traditional screen printing, it allows for more detail and coloring than screen printing.
Yes! Embroidery is our most popular decoration method for customization followed by 3D embroidery, printed transfers and then patches.
We have a special printer/cutter that we use to print your design onto a transfer. We then take that transfer after its been cut out and heat press it onto the hat. It is a permanent application.
Typically, screen printing is the cheapest method, but it is very limited. You can get instant quotes after designing and see based on your design and quantity which method (embroidery or printed transfer) is best for you.
Yes! We do offer both leather and embroidered patches. Learn more about our patches and prices online at our Custom Patch page.
No, sublimation is not one our current options for truckers. While we do and are familiar with sublimation, the color turns out dull and yuck.
We do! Watch for that no minimum tag for all eligible printed transfer no minimum options.
We Are Here to Help!
If you did not get all of your questions answered here, or need assistance in choosing a foam trucker, let our team know! We are here to help you with anything you might need. As a reminder, we have no minimum printed options available. Embroidery and 3D Embroidery have just a low 6 piece minimum and patches have a low minimim as well. If foam hats are not your thing, we have a huge selection of other styles including dad caps, meshback trucker hats and so much more. Heck, we can even help you with t-shirts, sweatshirts and other apparel as well.