---
Customize 7-Panel Truckers Now!
With our easy to use online design tool, you can upload your company logo, team mascot or design your own! We have hundreds of design templates and fonts to choose from if you want to be your own artist.
When you place your order, our team will do a professional review and create a free online proof, if applicable. Once you approve the proof, your hats will be sent off to production where we will make and ship them out.
Did you know that all of our prices are wholesale? We never charge retail for any products, even on name brands like Richardson, Decky & Flexfit!
Need help? Our customer service team is live Monday - Friday, 8AM to 6PM and would love to assist you!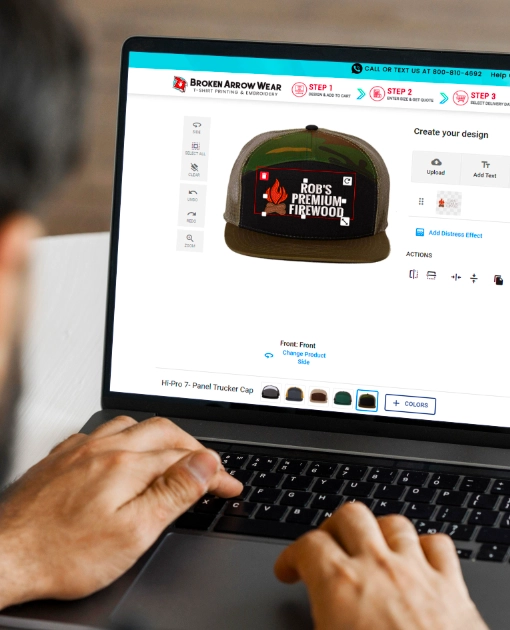 ---
7-Panel Caps - Learn More:
Find the right ladies tank top style now! Here is a little guide to get you started:
Also known as a Harvard cap, the 7-panel cap design creates a shorter seamless front panel, perfect for any style of decoration, including company logos and cool custom graphics.
What is the difference between a 6-Panel and a 7-Panel Cap? - 6-panel hats are more typical with a seam down the center. A 7-Panel cap has a seam down the front, but then the seam is intercepted with a larger panel suited well for decoration and trendy design.
Custom Embroidery - We will turn your design into stitches with custom embroidery. Free digitizing on all orders and a low 6 piece minimum. Embroidery on the front (up to 4" x 2.25" tall) or opt for a left or right panel. You can add embroidery to the back and side of your seven panel hat.
Patches - Choose from leather patches, embroidered patches or even woven style patches. There is a 100 piece minimum on all patches, but you do not have to use all of them, you can get a few seven panels with patches and other items too.
No Minimum Digital Transfers - Need only one single hat or very few? We offer digital transfers, which are full color, high detailed design options. No minimum order required.
Custom seven panel caps are often available with a contrasting front panel and visor, which draw instant attention
The two-part crown design that defines your cap as a 7 panel, is sought after in street wear design, boho designer fashion, and action sports brands!
Your embroidered logo and/or graphic design will look super classy on a custom logo 7 panel cap. Choose from puff or standard embroidery.