Unisex Bamboo T-Shirts, Bamboo Tank Tops and Bamboo Sweatshirts
You'll never want to take this bamboo tee off. It's soft, lightweight & comfortable. We promise. Buy yours today to experience the bamboo difference!
---

Custom Ladies & Womens Bamboo Items
You can't resist the softness of our custom bamboo t-shirt. Feeling gorgeous in this top is an instant gratification experience!
---
Customizing Bamboo Tees & Apparel
Not sure which method you want to use to customize your bamboo fabric? Here is a guide to help you choose:
Screen Printing
Screen printing is typically the preferred, cheapest method of adding custom printing on bamboo t-shirts. Low 6 piece minimum order on all screen printing.
Digital Heat Transfer
Perfect for high detailed, smaller left chest designs. Transfer are a lightweight option for customization that retains the quality and wear of the fabric.
Foil
We can add custom foil printing to all of our bamboo tees. Add some shimmer and shine, or just get something different and special this time around. 6 Available Colors.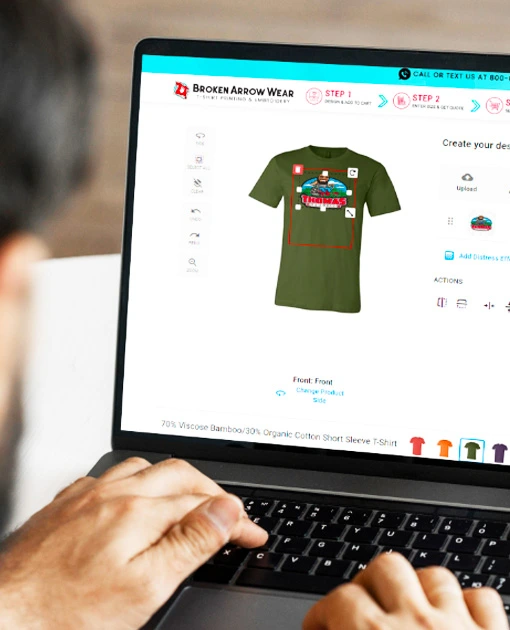 Design Bamboo T-Shirts Online in Minutes
You can design and customize your silk soft, bamboo product online now. Its super easy and takes only a few minutes.
Have a logo or design already? You can easily upload it, remove the background and even change ink colors right on our design tool.
Recieve an instant quote after entering in your quantity! Bulk quantity, wholesale pricing breaks occur at the dozens, so be sure to check those out.
Add your sizes, shipping address and pick your delivery date. Please your order with all major credit cards in just a few clicks of a button.
Need help? Our customer service team is available Monday - Friday, 8AM to 6PM CST. We have a team of professional artist if you need design assistance - free with your order.
We offer Fast & Free Shipping on all orders of bamboo shirts, no minimum purchase required!
Fun Facts about Bamboo Apparel
Made from the fastest growing plant on earth, custom bamboo shirts are silky soft, sustinable renewable resource and amazing to wear. Coupled with organic cotton, they are breathable, cool and one of the most comfortable fabrics in the world.
Bamboo fabric t-shirts are perfect for any use. From workout shirts to lounge wear, office casual to sun protection, you'll find bamboo fabric shirts to work for any reason, any occasion!
Onno, one of our favorite custom bamboo clothing manufacturers, is Global Organic Textile Standard Certified. They purchase carbon offsets from Carbonfun.org to reduction pollution and their own carbon footprint in the world. Isnt that cool?
Most shirts shown are made from a combination of organic bamboo and organic cotton. The dual-blend material is silky soft, ethically made, and manufactured from environmentally friendly, sustainable, renewable materials.
But beware! When you tell people how much you love how your bamboo shirts feel, people will touch you.
We offer quick delivery on all items, from order to your door in less than 8 business days. Rush services are available as well on all bamboo shirts.
Frequently Asked Questions about Bamboo T-Shirts
The main reason to consider purchasing a bamboo t-shirt is for its sustainability and performance over synthetic fibers. Bamboo functions much like rayon, it feels super soft and also offers moisture wicking properties making it very comfortable. It generally is coupled with organic cotton to add extra breathability. Try a bamboo t-shirt, we are sure you'll love it.
Yes! We are able to screen print on bamboo t-shirts. We also offer embroidery, but that does not tend to be as popular due to the heaviness of it.
Yes, all of our shirts are bought directly from the manufacturer at wholesale prices. We then re-sell them to you at wholesale prices with custom printing or decoration on them. You'll often times pay less for your custom printed bamboo tees than you would in retail!
Our customers love the Onno Bamboo T-Shirts. They are really affordable, offer 18 colors and have a great, comfortable fit.