No Minimum Jogger Style Sweatpants
No Minimum Traditional, Elastic Bottom Sweatpants
No Minimum Open Bottom Sweatpants
---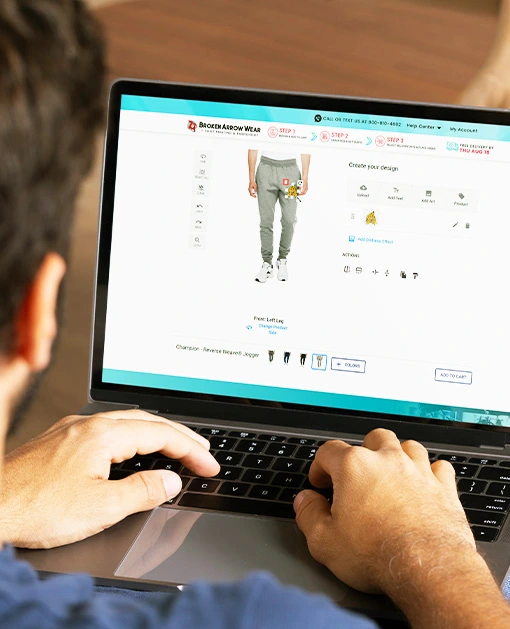 Design No Minimum Sweatpants Online Now!
With our easy to use online design tool, you can customize a single piece pant online in minutes. Upload your logo or use our design templates and clipart.
After you create your design, you can choose your personalization method, enter quantity and get an instant quote.
You can even order multiple colors of pants with the same design and get a cheaper price with our built in quantity based pricing.
Need your sweatpants super fast? We offer rush services to get your order delivered in 3-4 business days or less.
You will never have Setup Fees and ALL orders will include Free Shipping!
No Minimum Elastic, Jogger, Pocket & More Sweatpants
We've got you covered! You asked for custom order sweatpants with no minimum order and we delivered. Whether you need one or two pairs of sweatpants or more, all the sweatpants shown on this page are available with no minimum order.
These classic style sweatpants feature elastic at the ankle and at the waist. Some feature draw cords at the waist and some do not.
To determine whether the sweatpants you are considering have the features you prefer, click on "get quote" and read the description that appears in the left hand column. For more sizing information, click on the "size chart" tab
No minimum Joggers are the latest addition to the sweatpants family and are considered part of the casual leisure wear movement, meaning you can wear these bad boys out of the house and off of the field and no one will judge you!
Like elastic bottom sweatpants, jogger sweatpants feature an elastic cuff at the bottom that, in most cases, is slightly wider than standard elastic bottom sweatpants.
The joggers shown on this page are stylish enough to wear almost anywhere. joggers are a must have for evenings and weekends whether you kicking it with your friends are watching your kids play soccer.