Customizable Unisex/Men's Joggers
Customizable Ladies/Women's Jogger Pants
Custom Youth Sized Jogger Pants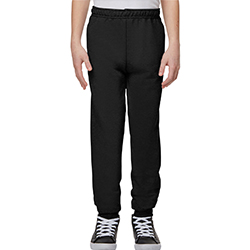 Jerzees 975YR
7.2oz Youth Joggers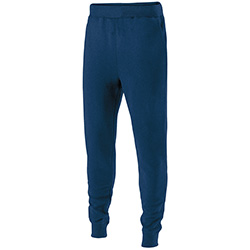 Holloway 229648
9oz Youth Blend Jogger
---
Jogger Sweatpants – The Ultimate Athleisure Wear
Jogger pants have become amazingly popular in the last few years. People either seem to love them or hate them. They have risen in popularity because they can be dressed up or down. You can wear them to the gym or really make them fly by adding a slick bomber jacket or button down. No matter what your use for custom jogger sweatpants, we are confident you will make them look great. Design joggers on our online design tool or our art department can create a custom designed jogger. Let us know how we can help you create the perfect customized jogger pant.
Customize Joggers with ScreenPrinting or Emboridery
The most popular type of customization on jogger pants is screen printing due to its extreme affordablity. Screen prints can be done with printing going down the leg or another popular area is an thigh print right about where hte pocket area is. Embroidery is our second most popular printing method behind silk screening on joggers. This allows for a little bit of a higher end look and adds a little bit more of a professional touch for your logo or down. We do also have a no minimum jogger option if you are just looking to design one jogger pant or bulk pricing when multiples are ordered.
Everyday Wholesale Prices on All Items
Design joggers for cheap because Broken Arrow offers every day wholesale low prices. Alternative Apparel custom joggers can retail for as much as $58 for the Printed Eco Fleece Joggers. Design your own with a customized screen print for less than the price you can buy a single piece retail! We also offer brands such as MVSport, Jerzee, Champion and Burnside. Custom joggers are are the rage so don't delay today in getting your perfect jogger pant. Be sure sure to check out the description of your items as we offer both ladies and mens joggers so you can find the most flattering cut for your group or team. If jogger pants are not your thing, not to worry. We have open bottom sweatpants, traditional pants, leggings and so much more. Don't forget to pair your jogger with your favorite sweatshirt.