No Minimum 100% Cotton Aprons
Stay sharp while cooking with our custom durable apron. Easy-access pockets, keep your tools on track, neat and clean, never lack.
---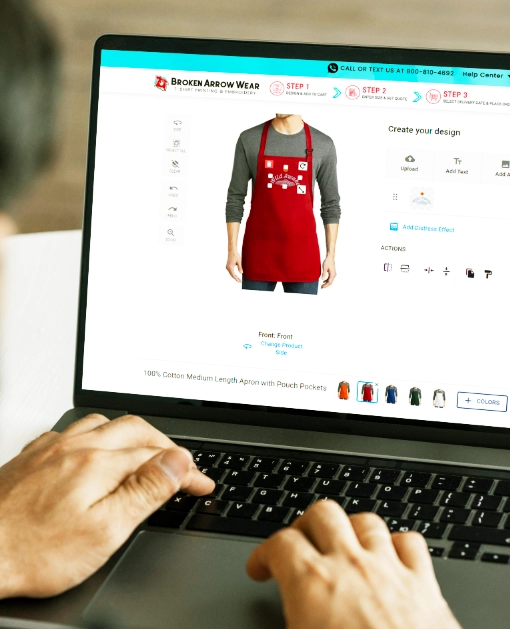 Create Custom Printed Aprons Online
Custom aprons of all styles can be designed in our design tool. Choose your length and style and then select "Design Now". You can mix and match styles of aprons for bulk quantity pricing as well.
If you have your own logo, you can upload it. No logo? No problem! Check out our design template ideas or use clip artwork to create your own cutsomized apron design.
With wholesale prices, every day, your aprons embroidered or printed aprons will be the cheapest possible price.
Our team is here to help you with your logo apron no minimum order! Call us or chat us Monday - Friday, 8AM to 6PM CST.
You will never have Setup Fees and ALL orders will include Free Shipping!
Different Personalities, Different Aprons Styles
Looking for only one apron for a friend, dad, mom or grandma? Our cotton aprons can be customized with no minimum order requirement!
No Minimum Printed Full Length Aprons- Great for cooking, playing or covering your clothing for painting, a full length apron will give you great protection.
No Minimum Custom Mid Length - Offering more flexability in movement, select a mid-length apron you're looking for some protection but not the bulkiness.
Waist Aprons No Minimum Order - Great for staff handling money or people who need the pockets without the clothing protectino of a full length apron.