Solid Nylon & Polyester Custom Drawstring Packs
Choose from our top selling solid cinch bags with or without a zipper pocket.
---

Multi-Color or Accent Style Drawstring Cinch Bags
Add some accents or colorblocking for something unique. Heck, even go with tie-dyed!
---

Best Drawstring Cinch Bags for the Budget Conscious
Looking for our cheapest options? These are the 5 cheapest cinch bags we offer.
---

100% Cotton & Cotton/Poly Blended Drawstring Backpacks
Offering no minimum options, these bags are econonical and made of cotton fabric.
---

Non-Traditional Drawstring Style Bags
Perfect for the gym, your daily commute, or a quick grocery run, these bags blend fashion and function seamlessly.
---
Customizing Drawstring Cinch Bags
Not sure which method you want to use to customize your custom drawstring cinch bags? Here is a guide to help you choose: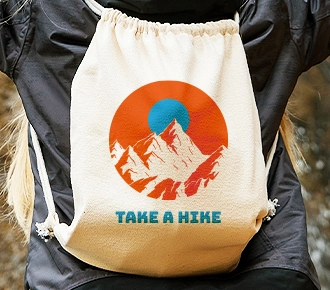 Screen Printing
Indulge in our highly favored method of customization, which not only provides you with cost-effective cinch bags but also rewards you with quantity-based discounts. The more you buy, the more you save!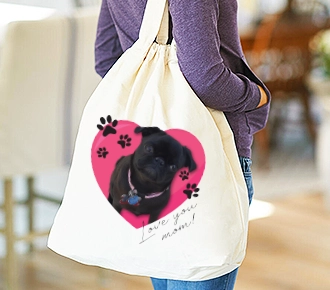 Digital Printing (DTG)
DTG provides sustainable solution for custom cinch bags with full-color designs, including photos. There's no minimum requirement, making it an excellent option for anyone looking to create custom bags.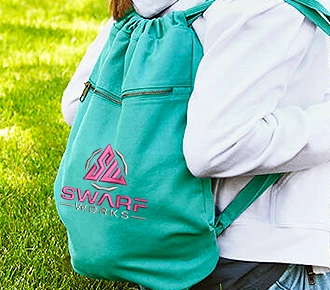 Embroidery
Elevate your cinch bags to the next level with custom embroidery that converts your design into artful stitches, coupled with free digitizing and an accessible 6-piece minimum order.
Design Drawstring Custom Bags Now!
You can design and create personalized drawstring bags online in only a few moments. Upload your logo or even a full color photograph. We have hundreds of fonts and tons of templates if you need a place to start.
Once you've created your custom cinch bag design, you can enter in your quantity and get an instant, free online quote. We offer only wholesale prices so your sports bags will be as cheap as possible.
Be sure to check the fabric of the bag you select! Cotton cinch bags will be able to be printed with no minimum order, but will absorb moisture. Nylon is the preferred bag fabric. A Woven polypropylene will be really cheap, but also not very high quality.
All orders include fast & free shipping!
Top 10 Ways to use a Personalized Drawstring Cinch Pack
With tons of options and no minimum selections available, you can create a cheap personalized cinch bag for one person or a group! Whether you call them packs, sacks or bags, we've got the style for you team or group. Add your design and customize online in minutes. Our customer service team is here if you need us.
Shopping bag. Be kind to the environment and use a cinch sack instead of a disposable bag. They are great for carrying everything from toiletries to T-shirts. Keep a cinch sack inside your glove compartment, purse and suitcase so you always a spare sack for the stuff you inevitably end up collecting.
Gym bag. Pack a cinch sack with workout wear and you are more likely to stop at the gym or go for a run on your way to or from work.
Spare shoes. Whether you are wearing stilettos or loafers, you never know when your feet will rebel. And if you've every stepped in a puddle, you know how nice it is to have a dry pair handy.
Snack. Stuff a power bar, a water bottle, and a bag of nuts into your cinch bag so you always have a healthy option for eliminating hunger. Perfect for sports events.
Car organizer. Keep all those little necessities that are cluttering up your car inside a neat little cinch sack that hangs behind the headrest.
Book bag. Custom drawstring bags are lighter than most backpacks and easy to carry around campus. Choose one with a side pocket for even more organization for your pencils and pens.
Biking or Hiking. Sling a cinch sack over your shoulder so you'll have both hands free to navigate your bike. Lightweight handy cinch bags are great for hiking when you pack them with water bottles, snacks, sunglasses, Band-Aids, and a hoodie.
Trade Show Giveaway Item. Branded drawstrings are the perfect way to market your business. Hand them out as a promotional product and people will be happy to have a place for all of the items they've collected at various booths.
Beach bag. Keep a cinch-packed with sunscreen, a beach towel, some shades and that book you've been meaning to read.
Toy bag. Keep a drawstring backpack filled with inexpensive "surprises" you can hand out to your kids when you get stuck in a waiting room or traffic jam.