Custom Sherpa Jackets & Vests- Womens, Unisex, & Kids
Sherpas will keep you nice and warm during cold winter times. From pumpkin patch to inside by the fire, you'll be nice and toasty.
---

Jackets & Items with Sherpa Lining
A sherpa lined item will offer more warm than a standard item, but is better for custom embroidery. Check out these options:
---

Other Custom Sherpa Apparel Items, Blankets and All Other Things Sherpa
Keep you feeling snug in the chilly months. Ideal for those mornings when you feel like just staying under the covers.
---
Custom Embroidered Sherpa Pullovers and Full Zips
Custom embroidery is the decoration of choice for sherpa apparel. We have lots of thread colors to choose from so your logo, name, or design will look classy and readable.
For the best logo recognition and readability, choose thread colors that contrast with the jacket's color, or that are much darker or lighter.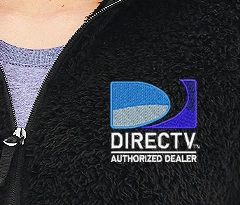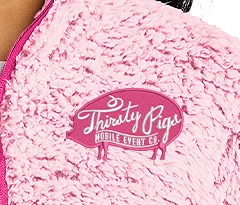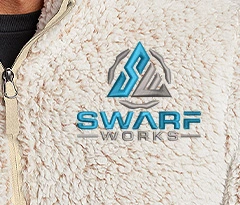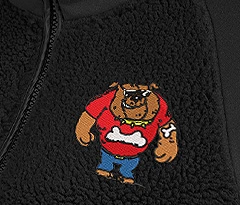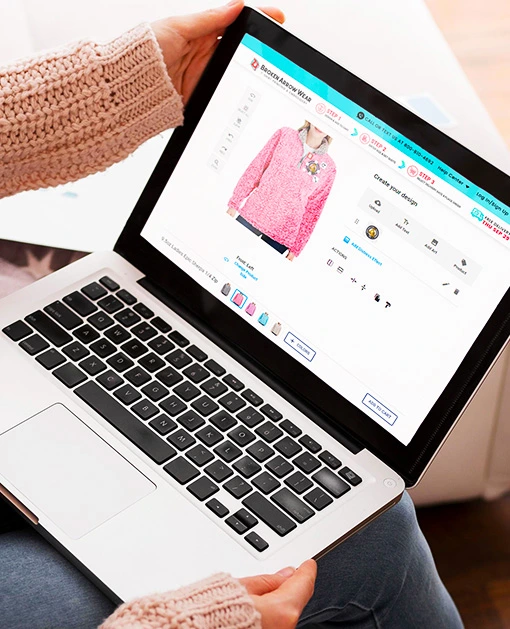 Design Custom Sherpa Jackets Online Now!
With our easy to use online design tool, you can start designing custom sherpa jackets in minutes. Design, Quote and Order all online!
Design custom sherpa online now today and you can be wearing it next week!
You can upload your own logo or use our design templates to create a cool custom design.
---
Learn More about Sherpa Jackets:
Custom embroidered sherpa vests, jackets and pullovers are on-trend for fall and winter!
Sherpa is a curly, piled fabric that has a soft and fluffy nap and makes a soft and cozy jacket, vest, or pullover sweater.
Sherpa is made from a synthetic material (usually polyester, sometimes acrylic or cotton) and is sometimes referred to as faux-sheepskin or faux shearling. Some also refer to Sherpa as fuzzy fleece.
Custom sherpa vests and jackets feature a fluffy nap and soft texture. Sherpa outwear imitates the look and feel of natural sheep fleece. Outerwear, but unlike natural sheep fleece, sherpa is machine washable and fast drying.
Custom sherpa vests, jackets and hoodies are excellent for working or working out outdoors because they are lightweight, wrinkle resistant and they wick away moisture.
Ensure your team is warm and stylish with Sherpa hoodies adorned with your business or group logo.
Choose from quality name brands of customized Sherpa jackets including Alpine Fleece, Boxercraft, Independent Trading Company, J. America and more.
Love Sherpa? Consider adding a custom logo to a Sherpa blanket or throw!
Frequently Asked Questions about Custom Sherpa Jackets
No. Because sherpa fabric has a nubby, brushed finished, the ink does not penetrate the fabric well enough for an attractive, long-lasting print.
Yes! Spot-treat stains with a stain-removing solution. Next, turn your custom embroidered sherpa garments inside-out and wash them on the gentle, cold water. Cycle. Lay your sherpa apparel flat to dry, or, if you choose to machine dry your sherpa items, set your dryer to its lowest setting, and remove the sherpa garments promptly once the cycle is finished.
Sherpa is usually made from polyester or acrylic, or a combination of synthetic fibers. Sherpa is woven and then brushed to create that soft, nubby finish for which it is known.
Fleece has a velvety finish, why sherpa has a nubby finish that resembles the look of sheep's wool. Both are typically made from synthetic fibers.