Most Budget Friendly/Economically Priced Tote Bags
Other Larges Totes for Grocery Shopping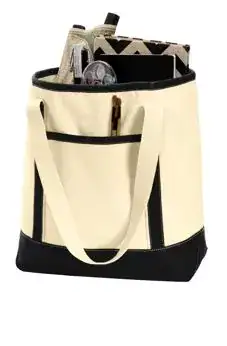 Port Authority BG413
Heavy Canvas Large Boat Tote
$$$ | 16" x 14" x 7" | 3 Color
---
Reusable Shopping Bags & Custom Grocery Totes
Custom reusable grocery bags are a great way to save the environment from single use plastic bags. These bags are great for shopping at the market, grocery store or even just toting your stuff around. If you are looking to purchase your reusable grocery bags in bulk, we have cheap wholesale prices. Decorate with screen printing, embroidery or our no minimum friendly digital printing.
Most Popular Styles of Reusable Grocery Totes
Polypropylene/Non Woven Totes - These lightweight, very inexpensive bags are typically seen in retail for under 99cents a bag. Due to the heat sensativiy of the bag, you can only print a single color screen print on the bag. Cheapest in overall quality as well.
100% Cotton Canvas - One of the highest quality banks on the market, these are easily thrown in the washing machine for use thousands of times. The thicker the oz listed on the description, the thicker the bag. 6oz will offer you a lightweight grocery tote where as 12oz will offer you a heavyweight high end option.
Cooler Grocery Totes - If you are wanting to keep your cold items a little bit colder for your drive from the store to your house, opt for a cooler bag! A thin level if insulation is all ready to assist you home.
Not sure what reusable grocery tote is best for you? Talk to our customer service team who is here to assist. All orders offer fast and free shipping. If you need help creating a custom design, you can use one of our design templates or artists can assist.