100% Polyester Moisture Wicking Polos with Pockets
Stay fresh and professional on the job with a performance polo. Odor-resistant fabric, you can rest assured that this polo will get it done.
---

Customizable Pocket Polos - Cotton/Poly Blends
These polos feature a blend of cotton and polyester for the ultimate breathability and comfort.
---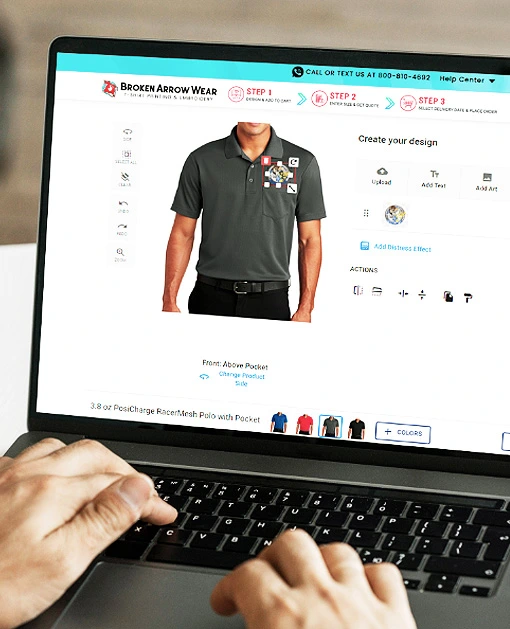 Design & Customize Pocket Polos Online Now!
We offer screen printing on the pocket, above the pocket or virtually anywhere on the garment.
Wanting embroidery? You'll need to design your logo above the pocket because otherwise embroidery on the pocket will sew your pocket shut.
You can select your polo including color, placement, design information and more. Create your pocket polo to be exactly what you want!
Once you love your design, you can get a free instant online quote, enter your sizes and shipping information and submit your order.
Our team is here to help! Call us or chat us Monday - Friday, 8AM to 6PM CST.
You will never have Setup Fees and ALL orders will include Free Shipping!
Custom Polos with Pockets | Embroidered Pocket Polos
Add a little extra pizazz to your custom embroidered polo by choosing one with a pocket!
Custom polo shirts with pockets look great when adorned with a business, team, or school logo, and there is no better place to embroider your logo shirt than on or just above the left chest pocket.
An embroidered logo on the left chest/pocket is highly visible and will help your company, team, or school to gain the highest possible exposure.
Custom embroidered men's pocket polo shirts and custom embroidered unisex pocket polo shirts are perfect for presenting your brand at business casual events.
You'll find each of the custom embroidered pocket polo shirts in this collection make an excellent choice for a company or school uniform.
All of the custom pocket polos will provide create a casual, yet professional appearance for men, women, children, players, coaches, team members, and fans.
Choose from moisture wicking, soft and silky, or stain-resistant custom pocket polo styles.
Frequently Asked Questions about Customizing Polo Shirts with a Pocket
It is not recommended. Embroidering on a pocket would actually sew the pocket shut. If you are wanting your design on the pocket, screen printing is the best choice.
Yes, do we do offer both options. You can choose your decoration method at checkout.