Champion Reverse Weave Jogger Sets & Hoodie Sets
Top Trending Fashion Forward Unisex Sweatshirt Sets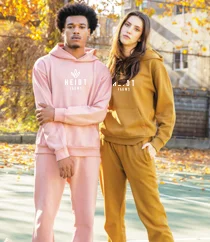 Custom Tie Dye Sweatshirts Sets
---
Custom Sweatsuits: Custom Jogger Sets
Step up your streetwear style with a custom matching sweatsuit.
Make Your Own Sweatsuit
Making your own sweatsuit is really easy in our online design tool. You can choose from our no minimum sweatsuit options or you can order in bulk for your group or team. If you need help, our customer service team is here to assist.
Matching sets are the perfect choice for fun weekend wear! Mix and match any of these two-piece sets for every member of your family, friends' group, team, or just for you. The custom Champion sweatsuits are a staff favorite.
Custom decorated sweatshirt and sweatpants sets come in multiple color choices from chic pastel sweatsuits, to tie dye sweatsuits, to classic gray and navy matching sweatsuits. Choose from custom screen printed sweatsuit sets or custom embroidered sweatsuit sets. You can customize both the sweatshirt and matching sweatpants or order one decorated and one blank.
Matching lounge sets are the ultimate choice for a day of leisure. Choose from leisure style hoodies, crewnecks, joggers, cropped hoodies and more.
Matching sweatsuit sets women sizes and unisex sizes are both available. You'll the love the street style vibe a custom embroidered sweatsuit creates. Custom cropped sweatshirts with custom matching joggers are trending now as are oversized custom hoodies with custom matching joggers.
Turn any Hoodie/Sweatshirt into a Crop
Custom cropped sweatshirt and sweatpants sets are super stylish and can be made the perfect length for you in just minutes. All you need is a good pair of fabric scissors! Take your standard cut sweatshirt, determine what you want the length of your new customized shirt to be and cut a straight line through both the top and bottom layer. Viola! You've got a tie dye crop hoodie sweatsuit with matching jogger set!
Custom street style sweatsuits make a fashion statement and feel as good as they look. If you prefer a cropped sweatsuit with a street style vibe, cut the back of the sweatshirt a couple inches longer than the front of the sweatshirt.