Independent Trading Company - Midweight Fleece Collection
The most popular, cheapest product line offered by Independent. This midweight collection is perfect if you are looking for the basic.
---
Independent Trading Company - Special Blend Collection
Super soft, nice and warm. These special blend products are a customer and staff favorite for those looking for something higher end than basic.
---

Independent Trading Company - Heavyweight & Sherpa Lined Collection
If warmth is your goal, these products will be your best solution for keeping you nice and toasty on a winter day.
---
Independent Trading Company - Tie Dyed & Mineral Wash Collection
With one of the largest product lines available and no minimum order requirement, these are some of our top selling tie-dyed fleeces. Trendy colors and patterns.
---

Independent Trading Company - Pigment Dyed Fleece
If you are women looking for something a little bit more flattering and tailored to your body, check out our picks. They generally offer a shorter inseam and tapered leg.
---
Independent Trading Company - Lightweight Fleece & Loopback Terry
Lightweight and soft is trending, most do not want that bulky sweatshirt feel anymore! This product line is perfect for those looking for that.
---

Independent Trading Company - Ladies California Wave Wash Crewneck
Lightweight and soft is trending, most do not want that bulky sweatshirt feel anymore! This product line is perfect for those looking for that.
---

Independent Trading Company - Jackets & Outerwear
Whether you need a lightweight jacket for casual wear, a super trendy bomber or sturdy workwear, you'll love Independent's outerwear collection.
---
Design Independent Trading Company Products Online Now!
With our easy to use online design tool, you can start designing custom printed Independent Trading Co. items online now.
From hoodies to crops, windbreakers to joggers, we have matching sets and no minimum options - something for everyone.
All of our Independent Trading Company products are wholesale and include built in quantity based discounts, you'll get the cheapest pricing possible.
You can upload your own logo or use our design templates to create a cool custom design.
We offer screen printing, direct to garment digital printing and embroidery! Choose your decoration method at checkout.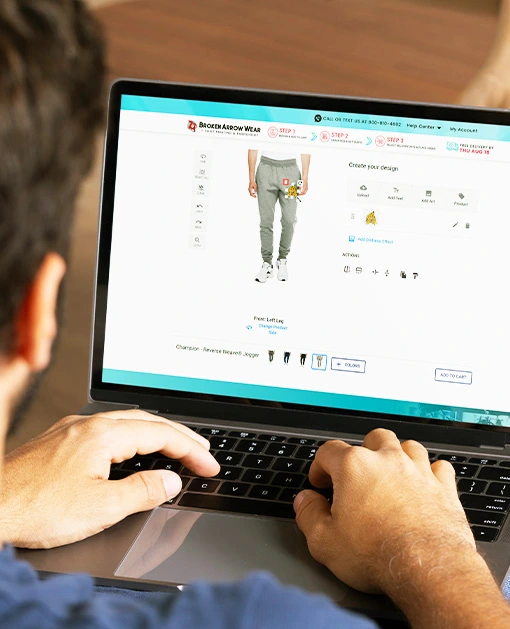 ---
How can you customize Independent Trading Co. Products?
Personalizing your products is super easy. Not sure which way to customize your gear? Here is a guide to help you choose:
Direct to Garment Digital
Choose dtg if you are ordering less than 6 pieces, your design is super high in detail (like a photograph) or your design has a ton of colors. We even have no minimum tie-dyes!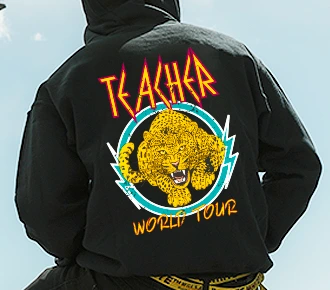 Screen Printing
Screen printing is typically going to be the preferred, most cost effective method for customizing Independent products. The more you buy, the more you save.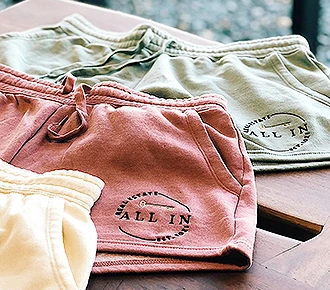 Embroidery
If you want your logo to be more professional or higher end looking, embroidery can offer that look. Your logo is turned into a stitchable design by our team.
---
Learn More about Independent Trading Company Products:
Independent Trading Company has quickly become one of the most popular, most affordable sweatshirt brands on the market today, With their great fashion sense and business model to set trends, they are one of our most popular sellers. Their commitment to quality and high attention to detail in the manufacturing process, they are taking over the fleece market. Fun fact, they currently offer no customized t shirt options.
Basic Midweight Sweatshirts : While we offer name brands like Champion, Adidas and Ogio, they are going to drive up the cost of your pant. If you do not care about using a name brand garment choose from our budget brands and save money.
Special Blend Line: The pricing for screen printed sweatpants is based on the number of colors in your design. Consider reducing the number of printed colors to make your pants cheaper.
Garment & Pigment Dyed: This super trendy line of pigment washed garments come in array of colors. Softer than a standard sweatshirt, garment dyed are popular everywhere.
Tye Dyed Line: One of our favorite customizable tie dyed lines on the market today, you can get a matching hoodie and joggger set with no minimum order. Offering over 8 colors including the trending Tie Dye Cotton Candy color.
Women's California Wave Wash: Wave washed garments are created with softness in mind. The also offer unique, coastal colors to match your cool, beach vibe.
Expedition Collection: Durable, Rugged and Top Quality. Jackets from wind and water resistant fabrics and small, important details like thumb holes and sherpa lined jackets will be in this collection.
Frequently Asked Questions about Independent Trading Company
While it seems to be a close guarded secret on what actually makes their cotton/poly blended products "special", they are designed for ultimate softness and warmth.
Yes! All of our Independent Trading Co. products are purchased wholesale and resold to you at discounted, wholesale prices. Your Independent Trading Co. product might even be cheaper printed than you can buy blank in retail.
Generally speaking, yes! They offer one of the largest blank inventory supply of wholesale garments. Check with our customer service team to be sure.
Yes, we do have a collection of youth sized Independent Trading Company items including full-zip sweatshirts, hoodies and even wind-breakers.
Champion Reverse Weave products tend to be heavier weight than Independent Trading Co. Heavyweight Sweatshirts. Champion also offers a special process that allows the garment to retain its shape better, Independent's are a standard weave. Looking for the most economical option? Independent offers high quality products at a much more affordable price.
No, printing over the side seam is not recommended. The ink will gunk up and look really rough and the final result will not be a high quality print.