Customizable Cooler Tote Bags
Color Block and Contrast Coloring Canvas Tote Bags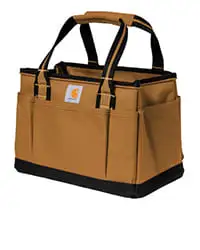 Carhartt CT89121325
Utility Heavy Canvas Tote
$$$$ | 9.5" X 14" X 8" | 2 Colors
---
Custom Cooler Tote Bags: Heavy Duty Canvas Totes
Custom logo insulated cooler totes make excellent gifts and are perfect for promoting your company or celebrating an event.
These custom decorated insulated, portable bags can keep drinks, lunches, or snacks cool for hours and are excellent for picnicking, beach combing, camping, car rides, and day trips.
Check the size of the cooler bag shown above by hovering your cursor over the image and clicking on more details. The smaller size cooler totes are excellent to use as a lunch bag or a six pack of refreshments. Larger cooler tote bags can carry 18 cans or equivalent size items.
Custom logo cooler tote bags are a favorite promotional item for many customers and will likely be used repeatedly. Add your company logo and/or company name, band name, event name, clever saying, monogram, or a custom graphic to any of these customized cooler tote bags for a price much more affordable than you think.
Often you can customize a tote bag for the same or less than you would pay for a plain tote from a sporting goods store.
Note that the Carhartt canvas tote is sturdy, versatile and excellent for carrying and organizing work gear. This custom specialty tote makes a great or uniform addition for your crew or subcontractors.
Whether your clients or team members are relaxing on the shore, working offsite, riding in a boat, or perusing the retail shops, they will appreciate the convenience of a sturdy branded tote.
A custom logo cooler tote given away generates goodwill that won't be forgotten. Fans are also often happy to pay for a tote that displays the name of a favorite band or event.
Premium materials and craftsmanship ensure lasting durability for the featured soft-sided cooler totes.
Choose from either screen-printed or embroidered designs on your chosen cooler tote to make an excellent first-and lasting-impression!