Best Budget Pick Moisture Wicking Performance Polos
If budget is the most important factor in selecting which zip to customize, these will be the cheapest options to choose from.
---
Customer Favorite Name Brand Peformance Polos
Many people want name brand products. With high quality reliability and retail style, you'll get high performance and high style.
---

Our Favorite Performance Polos with Color Blocking or Patterns
Perfect for big games, workouts, or a night out.
---

Best Performance Polos for Snag Resistance
If you plan to be hard at work in your polos, check out our selection of snag-resistant and snag-free options to keep your polos looking newer, longer.
---

Best Moisture Wicking Polos for Sun Protection
With added protection for UV rays, these polos are prefect for spending the entire day protected in the sun.
---

Honorable Mention: Other Polos Worth Taking a Look At
The polos that deserve a shoutout for their designs and styles.
---
Design Performance Polos Online
You can easily design and customize performance polo shirts. Choose your decoration method at checkout - screen printing, embroidery or heat seal transfer.
With both budget options and retail brands available, all of our prices are wholesale so you'll pay often times cheaper than retail, even with added customization.
You can choose from our design templates or upload your own logo. With over 500 different fonts and clipart options, you can be the artist of your very own customized moisture wicking polo.
Looking for Nike Dri-FIT? Check out our hand currated selection of Nike Performance Polos
You'll get fast and free shipping on all orders! We do offer some no minimum performance polos as well. Look for the "no minimum" tag!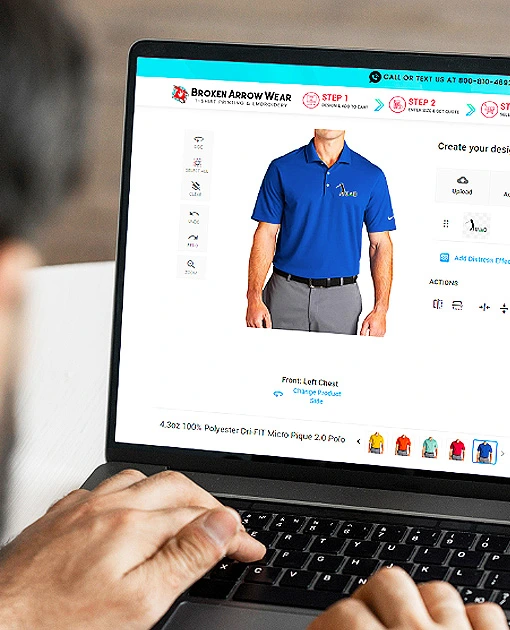 ---
Which Decoration Method is Right For You?
With options galore, it might be confusing to know what decoration method is right for your polyester polos. Here is a guide to help you choose: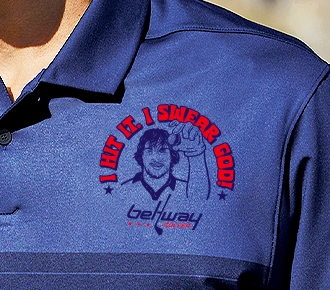 Screen Printing
Typically the most cost efficient option, screen printing is a great option for jersey polos or moisture wicking polos with light or no textures.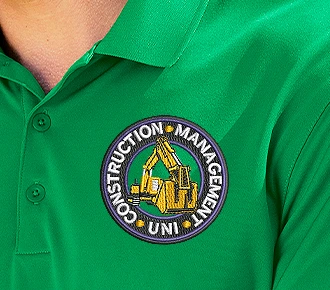 Embroidery
Turn your deisgn into stitches with custom embroidery on your moisture wicking, poly polo. This option has the highest quality and added professional touch.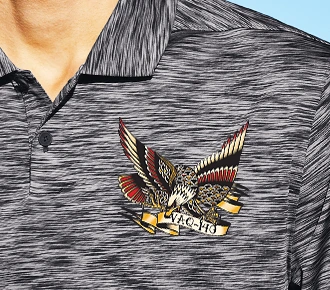 Heat Seal Transfer
A popular application method due to its lightweight feel. Print with high detail and a high number of colors. Low 6 piece minimum order requirement on most polos.
---
Custom 100% Polyester Performance Polos - Things to Know
Custom printed performance polos are designed to help you stay more confortable on the golf course or in the office. With moisture wicking polyester fabric, you'll feel more dry and therefor cooler all day long.
Poly performance polos move and stretch with your body so that you can get the job done, whether you'll be giving a power point presentation, swinging a golf club or landscaping a golf course.
Quick-dry, anti-microbial custom polyester polos are also wrinkle resistant and reduce odor and static even when working or playing in a hot and/or humid environment.
If you are looking for a performance polo with add stretch to move and bend with your body, check out our selection of polos that include spandex or elastine for added range of motion.
Need helping choosing the right polo or designing your custom embroidered personalized polo shirt? Our customer service team is happy to help. At Broken Arrow, art and shopping services are free. Give us a call today!
Many performance polos feature a snag resistant weave that is engineered to resistant snagging and pilling wear after wear.
To learn more about each specific polyester polo shirt you are considering, scroll over the chosen polo shirt image and click on "more details." For your shopping ease, we've also included the price range (the fewer dollar signs, the cheaper the price) and size range(s) available for each shirt; most are sized from extra small to 3X large or 4X large.
We have a great selection of color blocked polos, polos with pockets, tall sizes, big sizes and so much more. If you are not finding what you want, our customer service team is happy to help find the perfect performance polo for you.