Waterbased Silk Screening
Waterbased silk screening is a great option for vintage looking t-shirt, or if you are wanting a super soft print. Waterbased inks will not give a bright or vibrant print, like you may see with plastisol inks. Waterbased inks have a soft hand feel, and sink into the shirt fiber, as the shirt color is removed from where the design is printed. Waterbased silk screening gives the best results on 100% cotton shirts, but will work with shirts that are at least 70% cotton and up.
---
All Over Screen Printing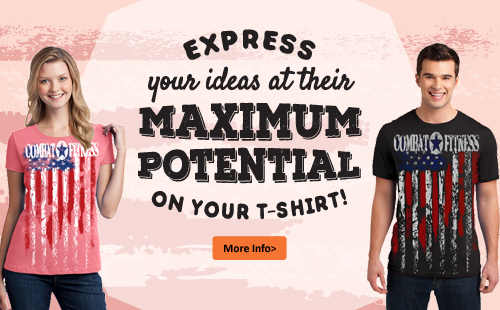 Broken Arrow is proud to offer waterbased silk screening with our all over print process! With this awesome process, you can get a print that spans the entire length and width of the shirts. The all over print is not a wrap around print, as it prints the front and back separately, so your design may not line up at the sides. The print is distressed near seams and hems, to have a more worn and vintage look. There is a maximum of 4 ink colors possible with all over screen printing, and a small space is required between the ink colors. The minimum order requirement is just 12 shirts per design with all over printing.
Click Here
---
Best Pricing
We know that everyone wants a great deal, so we give all of our customers the best possible pricing right off the bat! All of our pricing is wholesale, and you can save even more with our bulk quantity price breaks at about every dozen. If you need a few or a boat load of custom shirts with waterbased silk screening, Broken Arrow is your best option! You'll get the best pricing, top quality prints, and a fast turnaround time!
---
Custom Designs
Be sure to take advantage of our free custom design services available! Leave the work to our artists, and they will create a unique, custom design just for your waterbased silk screening order!