Check Out or Custom Shirt Printing in Person!
Get samples of our work sent directly to you! This sample pack offers everything you need to see the variety of services that Broken Arrow has to offer. All sample packs are sent with shipping included in the price for the continental United States. As an added bonus, the cost of the sample pack is credited to your next order!
Our sample t-shirts offer a variety of the different locations and specialty techniques that we have to offer from oversized locations to clear gel to an example of our process blending, the embroidery sample includes puff embroidery.
Don't delay... order your Broken Arrow sample pack today!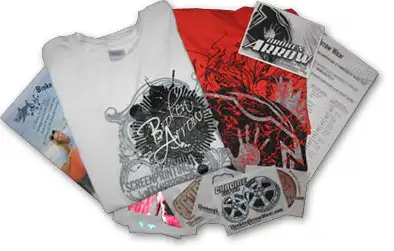 This sample kit includes:
Sample Screenprint T-shirt
Sample Embroidery T-shirt
Specialty Ink Sample Swatches
Broken Arrow Garment Catalog
Sample Request Card
Services Brochure
Our Price: $15.00
Shop Now!