Create a Customized Tie-Dye with YOUR School, Team or Business Colors! Choose from our dye friendly products!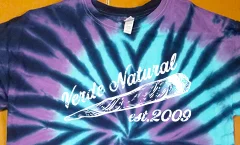 Custom Color Spiral
Customer wanted their business colors matched in a spiral pattern - purple, turquoise & navy.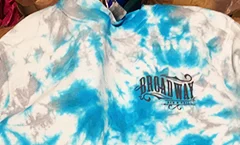 Colorful Crinkle Cut
Typically a single color, crinkle cut dyed with customers restaurant colors.
Custom Selected Shirt
Customer wanted the Bella+Canvas 3001 dyed for a lightweight, and softer option.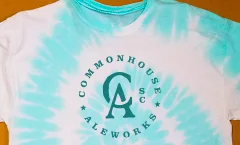 Larger Sizes? Absolutely!
Customer wanted tall sizes and up to 6XL so custom dye to the rescue for non standard sizes.
---
Create Your Own Tie-Dye with Your Colors!
You can design and customize your very own tie-dye. As we like to say, you design it, we will dye it. You can choose from patterns such as swirl, pinwheel, cyclone or go with something funky lime marble, crinkle or even tiger stripe. Please note totally custom tie-dyes do take about 2 weeks longer. Here's how you do it:
Select the Garment to Customize - You can design a short sleeve, long sleeve, sweatshirt, hoodie & more styles.
Design Your Screen Print - Want to add your logo, mascot, team name or something else? Design it on our monotone default image.
Enter Sizes & Place Order - You'll tell us what sizes you want including youth and adult. In the comments box, you'll simply tell us what colors you want (i.e., red and blue) for the tie-dye. Tall Sizes & Large Sizes available.
Sit Back & Relax - Our team will create a custom proof fo you based on your tie-dye specifications and your printed design. You'll confirm you love it or you can make changes. Once approved, we will send your design to the tie-dye team who will dye your garments, print them and deliver them free to your door.
What Products are Available?
Our tie dye team can custom dye virtually any product that is 100% cotton. This means you can custom dye totes, tees, sweatshirts, long sleeves, tanks and so much more! You can even create a totally customized sweatsuit! Then, add a logo or design for something you've never seen before.