T-Shirt Design Ideas & Templates
Transform these T-Shirt Design Ideas into Your Custom T-Shirt Design
Don't have a creative bone in your body? Don't worry, these t-shirt design ideas can be easily edited in our online design tool which is easy enough for the least techie people. Select a screen printing design or a t-shirt design and then click "customize design". That button will take you direct into the design tool where you can edit the t-shirt design idea into whatever works for your group or team. Change the text, edit the design colors, change the clipart and even modify the t-shirt selection! Our t-shirt design ideas template tool is just the beginning of your creative ideas. Once you've create the perfect screen printing design or digital printing design, you can add your size, get a cheap quote and place your custom artwork right online.
Use these Ideas for Any Customizable Product
Our t-shirt design ideas are not just for t-shirts! You can customize sweatshirts, hoodies, tanks, hats, long sleeves and hundreds of other products with our screen printing templates. To change the product from a t-shirt, select the design template that you like and then enter into our online design tool. Select "Change Product" and off you go to find the other custom apparel pieces are you looking for. If you don't find the tee, sweatshirt, hoodie or other product you are looking for, be sure to ask our team to help you find it. With over 25,000 available garments in our catalog, we only offer a small selection of our most popular products online. We've got a range of cheap screen printing designs to brand names that you love for your t-shirt design ideas.
Check out our Other Popular Categories
Military Shirts - Perfect for your unit or family, we have lots of uniform compliant options!
Vintage Shirts - If you are looking for that old school, vintage look, check out how we do it!
Police Shirts - Stay cool and Dri in our selection designed for the sqaud.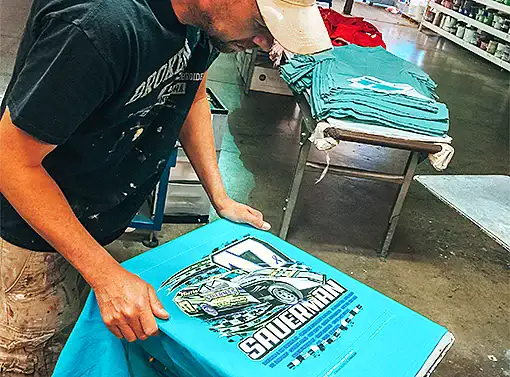 If You don't Like what You See, Utilize our Free Custom Art
Custom t-shirt screen printing has become a popular way to express a message. From simple to complex designs, Our t-shirt screen printing company can print on most any apparel. Broken Arrow's graphic artists can help you turn your idea into reality. We offer affordable screen printing due to our always wholesale prices and our free custom artwork! Getting a customs screen printing design has never been easier, or cheaper! Our art department will bring your T-shirt design ideas to life! Our T-shirt designers are some of the best in the industry. We have custom screen printing designs for race wear, business logos, fundraisers, booster clubs, youth camps, team sports, show choirs, reunions, gifts, and more. We also design on almost any product including hats, t-shirts, bags, hoodies, jackets, polos and anything else you might possibly want. Ordering custom shirts online is really easy. Once you place your order, we will create an online proof right on our website. You will then get to confirm all of the details of your screen printed design including ink colors, print dimensions, garment colors and print locations. This virtual proof will give you the best insight on what your screen printing design will look like once it is in your hands.
Need More T-Shirt Design Ideas?
Not getting enough ideas from this page? Don't worry, we've got thousands of screen printing designs for you to check out. You can start by going to our artwork approval page. Here you will find hundreds of different design options that we have done for real customers. These can range from schools to teams, dance to businesses. Our screen printing design portfolio is growing every day so be sure to check back often or bookmark that page to keep your idea juices flowing.