Custom Racing Shirts & Race Car Designs for Every Car Type
Custom Racing T-Shirt Design Ideas
We call it "car art", because it includes your car in an incredible, printable, and memorable design that will look fantastic on a shirt. Don't be fooled by the other T-shirt companies that just use a standard car image with your colors. At Broken Arrow, your own car is part of the art! Broken Arrow charges a flat rate of

$299.95
For a single car design
5-7 Business Days
To receive mockup proofs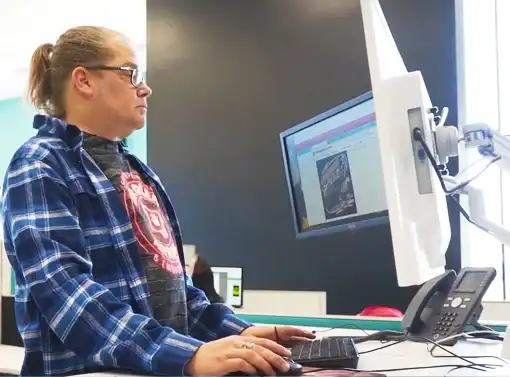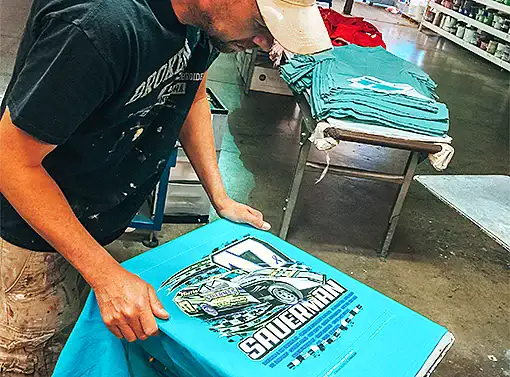 Details on Custom Racing T-Shirts
Screen Printing is our most popular option for custom racing T-shirts and hoodies.
Screen printing allows for vibrant colors, and creates a durable, long-lasting result.
Screen printed custom racing shirts are the most economical for orders of 12 or more custom racing T-shirts. The minimum order requirement for screen printing custom racing t-shirts is just 6 shirts per design, and you can take advantage of price breaks at about every dozen.
With screen printing, the race shirt pricing is based on the number of colors in the design, as well as the shirt you select, and the quantity you want printed.
Custom Racing Hats, T-Shirts, Sweatshirts, Tank Tops & More
With custom racing t-shirts, there is no minimum order requirement, so you can order as many or as few shirts as you need - even a single shirt!
Choose long sleeve t-shirts if you need some warm, or tank tops if you need to stay cool. We have garments for all of your racing fans.
Digital prints for custom racing t-shirts aren't as vibrant as screen printing, but it does create a very soft feel thanks to the special water-based ink that is used.
We offer all racing styles including dirt track racing, asphalt and all other racing styles including car shows.
Order some custom embroidered racing hats to coordinate with your custom racing T-shirts for a complete look that is sure to be a huge hit!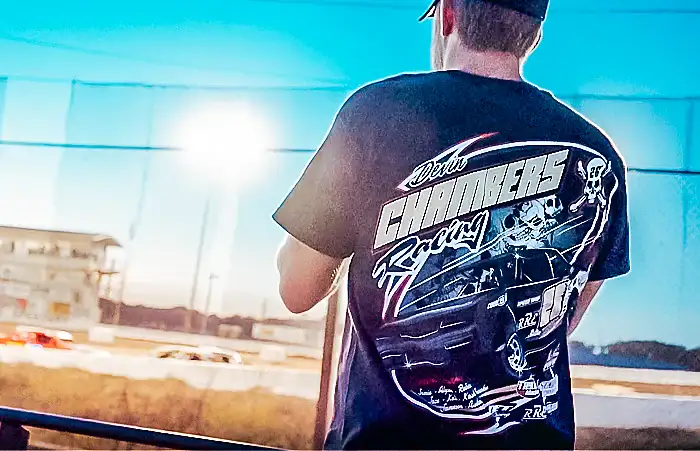 Best Custom Racing Apparel in the Country
Hands down, the best apparel company in the country. We have been using Broken Arrow for quite a few years and they continue to impress.
We are a professional sports car race team and we rely on them to keep us looking the part. Satisfaction is guarantee with Broken Arrow.
John Brooks
Flying Lizard Motorsports
Frequently Asked Questions
The fee for custom car art is $299.95 if you are ordering under 144 pieces, if you order over 144 pieces the car art fee is $199.95. The pricing for the garments is going to vary on how many garments you are looking to order, how many locations and how many ink colors we are using. To give you a rough idea, if you did 48 pieces of this shirt with a 4-color front/5-color back, they would be $16.62 each for S-XL, $18.87 each for 2XL. If you ordered 144 pieces with a 4-color front/5-color back, they would be $11.26 each for S-XL, $13.41 each for 2XL. That item is one of our most popular styles for this type of project!
The initial proof for your customized car design will be ready around 3-5 business days after the artwork fee is paid. Our artwork team will take great care in making sure that your design is 100% custom to you and includes the WOW Factor!
Yes, you can request changes to the design if needed! You get up to 5 standard changes included in the original fee. If you are wanting to make additional changes after the 5th or complex changes, we do reserve the right to add additional artwork fees. We understand you may need have last-minute sponsor adds, font changes, or removal of sponsors; we will do our best to accommodate these types of requests without fees.
Yes! Each additional car over and above the first one is $99.95.
We require high-resolution photos of your vehicle and the angle at which you prefer it to be shown on the garments. Cellphone images are not the best as they can be very low resolution and hard to get details out of it once we zoom in to redraw it. We do ask that if you have sponsors who want on the shirts to send us high resolution files of the sponsor logos. You can have your graphics supplier or decal/wrap company supply these directly to us. The more photos you provide the better. Your customer service rep will work with you to get the images we need to create your amazing car art design.
We do! We have done boats, semis, concrete pumping and work vehicles, tractors, firetrucks, airplanes and so much more! You name it, we can draw it! We can create a "car art style" design with any type of vehicle.
Yes, you'll just need to let us know up front all the garment types you plan on ordering. This will allow our art team to try to design something that works on all garments needed. For example, if you want hoodies, we will try to design the front to be smaller than we need to account for the front pocket. You can mix and match the garments and colors of your garment if EVERYTHING about your art is the same (size, location, and colors) and still receive the quantity-based discount.
We recommend the car on the back of the garment as it allows us more room to create a bigger and better design! (i.e. hooded sweatshirts have the pocket on the front which limits the amount of room we have for customization.)
We do offer youth sizes yes! Please keep in mind that these are smaller garments and may not be able to be combined in the same with the adult garments. Please let your customer service rep know before designing if you are needing youth sizing.
On average, the entire process from design to printing to delivery to your door takes 2-3 weeks. We do have rush services available. Please let your customer service person know if your ideal delivery date.
Ready to get started with your Race Car Shirts?
Our customer service team is ready to assist you today. Fill out this form to get started!
Be sure to include as much information as possible so we can best assist you.