Do you need to select an Embroidery Shop Near You?
No! At Broken Arrow, we don't believe the best determining factor of selecting your embroidery shop should be based on who turned up when you did a google search of "embroidery shops near me". Read our reasons why and check out some of our other points to consider when looking for an embroider shop to fit your custom embroidered needs.
Turn Around Time: Local Doesn't Mean Faster
It is often assumed that by the time you add shipping time from a non-local embroidery shop, your turn around time will be longer. Not true! On average, custom embroidery runs a standard turnaround of 10-14 business days. The embroidery shop near you might run longer, might run slower. Especially if you have a bulk order, your local embroidery shop might not have the equipment to handle your bulk embroidery order on a fast turnaround basis. At our embroidery shop, the standard turn-around is 4 business days after you've approved your proof and not a day longer! Add in shipping time of 1-4 days and I bet we can get your embroidered polos, hats or other apparel delivered within the same time if not faster than that embroidery shop near me search result.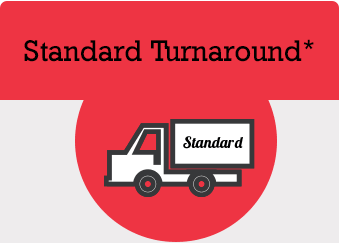 Completed in
4
Business Days
---
Included with all orders
After artwork approval
Ships the following business day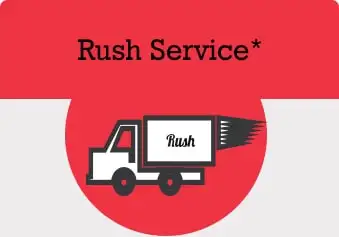 Completed in
3
Business Days
---
$49.95 per order
Ships the following business day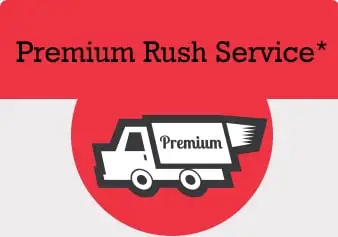 Completed in
2
Business Days
---
$99.95 per order
Expedited shipping available
*Rushes are subject to availability. Art approval cut off time is 3PM CST, Monday – Friday. Artwork approved after this time will be considered as being approved the following business day. Expediting shipping is available for an additional charge. Contact our customer service team for more details.
Quality: Experience Matters!
There is low quality embroidery, high quality embroidery, and then there is Broken Arrow quality embroidery! Broken Arrow has been an in-house embroidery shop since 1989, so for over 25 years. We didn't get this way because we don't care about our customer and our quality. We don't like to brag too much, but we are so stinking proud of our shops embroidery quality that we challenge you to give us a shot and then compare it to embroidery you've had done at another embroidery shop. The key to high quality embroidery is a combination of experience, digitizing and machine calibration. We are so serious about all of these we digitize everything in house and even have a full-time embroidery machine maintenance man. With sewing over 2,000,000 stitch per day and thousands of garments a year, you'll find that ordering from a embroidery shop near me doesn't matter!
Pricing: Buying Local Doesn't Always Save Money
Did you know the currently if you buy online from a place that does not have a current presence in your state you do not have to pay sales tax?! Depending on local tax rate in your area as well as order size, this can save you sometimes hundreds of dollars over your local embroidery shop. Consider a $1,000 order with a local tax rate of 7%. That will cost you an additional $70, all things considered equal. Broken Arrow is an embroidery shop that offers free shipping, so that savings is yours to keep! In addition to potential tax savings, we've got always wholesale prices and really economical rates because of our efficiency. Although we don't think you should always make your embroidery shop decision based on price, we do recognize that sometimes you have to. If you find that the embroidery shops near me has a better price, let us know…we might be able to beat or match it!
Support Small Business: Buying Local isn't the only thing that Supports Small Business
Supporting local business is great, and we love it too, but don't forget that purchasing from Broken Arrow is supporting small business. We were voted 2016 Best Places to work in the $18.5 billion industry of promotional products. We provide our employee with health care, dental insurance, 401K, flexible work schedules, fair wages and many other really great benefits. While these things all come at a cost to us as a company, we value our employees and their welfare above almost anything else. Know that when you purchase from this embroidery shop, your money is being reinvest back into the economy and our employees.
Hopefully, these points will help you in determining where you want to go with your google search result of local embroidery shops near me, or you want to go with the best embroidery shop! If you have any questions about your logo, garments or anything else, please let us know. We are here to help.