Read Time:
2 Minute, 12 Second
Holiday Shopping is here!!!
As I have been out and about in the last week or two, I am seeing that retail has started to put out their Christmas items. Is it me or does this seem to happen earlier and earlier each year? People are starting to think about corporate gift ideas also, which reminds me of my very favorite item to use to satisfy pretty much any employee or client!
And the best gift ever – SOFT SHELL JACKETS!! Seriously, if you don't own one, you should get one. They are the most all weather, universal jacket a person can have. Here is why I think everybody should own one:
Great Weather Protection – They are both wind and water resistant
Versatile with your wardrobe – They can be worn casually with jeans or dressed up with slacks
Fashionable and different than the standard – They are "in" and you can get both men and women styles, which look great on anybody! Nobody wants another basic polo with their logo.
Affordable – You can get a really high end soft-shell with our wholesale pricing embroidered for a fraction of the cost of what you can buy a retail soft-shell jacket of the same quality.
Wearable – These are heavy enough to wear in the fall and winter as a main jacket, but light enough to avoid that bulky ski jacket feeling. You can wear it into the office and never take it off!
I mean honestly, what is not to love about these jackets? If you want a holiday gift idea with your logo on it that your customers and employees will actually wear, this is the best place to spend your money. When you give these away (or even sell them!), employees and clients will think you've really spent an arm and a leg to think of a nice, wearable item. BONUS! It will have YOUR logo on it! By the way, you don't have to get the custom embroidered logo on the left chest, put it on the sleeve, upper back, or anywhere!
Go Online to https://www.brokenarrowwear.com/q/i.aspx?b=weatherproof&m=6500 to get pricing on my favorite wholesale soft-shell jacket.
.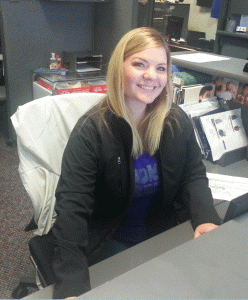 I found Katy wearing a Port Authority Ladies Soft-shell jacket while she was working today. Its keeping her warm on this rainy fall day.
Call our sales rep if you are interested, we can help you find the right corporate gift for you. We have soft shells for every climate with over 250 different styles available!
Happy Holidays (too soon??)!!
Kortni