High Density Screen Printing
Are you looking for a way to make your customized tee shirts and apparel stand out from the crowd? Well you have come to the right place! High density screen printing will do just that - literally! High density printing gives your design a raised up look and feel that will surely be the talk of the town! Do you whole design in high density, or just accents - whichever you prefer!
High Density Options
High density screen printing has several options that you can use to further customize your tee shirts and apparel. High density has different micron levels, which correspond to the amount the design is raised up. 200 microns is the lowest level, which gives a slight increase over traditional screen printing. We recommend going with at least 400 microns for a noticeable different. You can also opt for 600, 800 or even 1000 microns for a super cool look for your high density printing.
---
Fast Turnaround Time
You'll love the fast turnaround time at Broken Arrow, even for high density printing! Your order will be complete within 4 business days after you approve your online proof, and will ship out the following business day. UPS Ground shipping is free within the contiguous United States, or free USPS shipping to military mail locations. If you're in a hurry, ask about rush production and expedited shipping options.
---
Huge Apparel Selection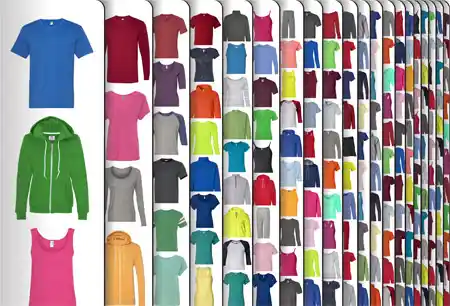 Browse our online catalog to see tons of great apparel options to work perfect with your high density screen printing. We have all sorts of options including tee shirts, hoodies, raglans, jackets, sweats, and more! You can get instant price quotes right online when you choose any one of our hundreds of items!
Design Now