Read Time:
2 Minute, 30 Second
5 Easy Ways to Ensure your Custom T-Shirts Get Noticed
If you are printing custom T-shirts for your employees, customers, team, or friends, chances are you'd like your shirts and your logo or graphic to get noticed. Here are 5 quick and easy ways to ensure your custom T-Shirts will get some attention.
1. Choose a great base T-shirt.
Pigment washed (you know that soft washed, favorite worn look) tees are a customer favorite. Camo print shirts and tie-dye shirts also stand out from the masses.
2. Choose standout color combinations between your T-shirt and printed graphic.
White print on black shirt is very easy to read. A shiny black print on black shirt creates a subtle, classy retail vibe. A bright multi color design draws attention to logo or graphic on a muted gray, blue, or white shirt.
3. Add shine.
"Some of our most memorable designs combine standard ink colors with foil as an accent," says Kortni Remer, General Manager of Broken Arrow Custom T-Shirt Printing and Embroidery. "Foils add dimension and can make certain elements stand out better than standard inks. This enhancement speaks for itself when used correctly and adds that special something to a design that people notice."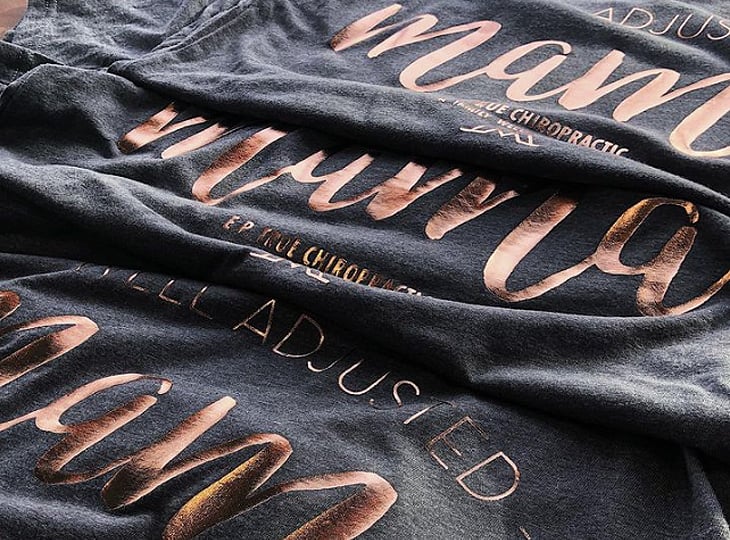 4. Add sparkle.
When Caravello Racing reached out to Broken Arrow for a design that would stand out from other racing teams, the Broken Arrow art team suggested adding a little sparkle—in the form of glitter ink. "Our team used red glitter as an outline for the Caravello team name, keeping the lines fairly thin so the glitter wouldn't overpower the design, but would add the extra sparkle it needed. We love the result!"
EXPERT CUSTOM GLITTER DECORATING TIP:

For those of you that want to print your own T-Shirts and make glitter ink pop, choose a base ink color on the glitter areas that is similar shade as the glitter ink. For example, red glitter gets a red under base.  Then use a lower mesh count screen to allow the glitter flake to come through the screens. "We typically use a 40 count or lower mesh screen for glitter," Remer says. Print the glitter ink color last in print color order. "If you must print something after glitter, make sure the other ink is fully dried," Remer says. "Avoid wet-on-wet printing."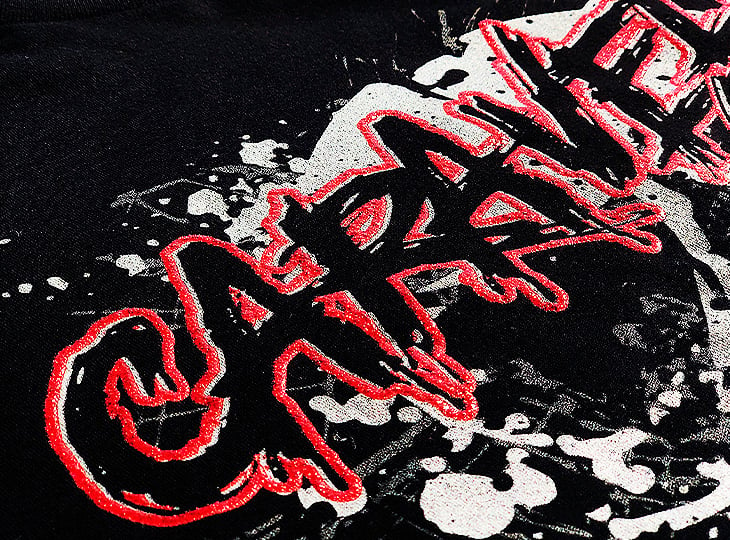 5. Add embroidery.
Embroidery doesn't always cost more than screen printing, buy it does increase the perceived value of a shirt. Custom embroidery is the process of taking any design or logo and converting it to a stitchable file that can be sewn onto a shirt, bag, blanket, or some other soft good. To make a logo or graphic look great when embroidered, some minor alterations may need to be made to an existing design. At Broken Arrow, these embroidery art services are free.
Do you need more T-shirt decorating ideas? Check out our Custom Logo Ideas blog.