Read Time:
3 Minute, 3 Second
Here's how to enhance custom embroidered hats and apparel with 3D embroidery.
What is 3D embroidery, also called puffy embroidery?
3D embroidery is an embroidery technique where parts of a custom embroidered design or custom embroidered lettering is raised up (or puffed out) from the fabric to create a three-dimensional look.
The most eye-catching puff embroidery designs accent the overall appearance of the design without overpowering it. Simple logos and lettering look great when puffed out, but not all custom designs (especially complex ones) are good candidates for this artsy sewing technique.
"Our customers love the look of puff embroidery as it typically offers a higher end, retail look than flat embroidery," explains Kortni Remer, general manager of Broken Arrow T-Shirt Printing and Embroidery.
How do you create 3-dimensional embroidery?
A small piece of flexible foam (usually in the same color as the embroidery) is tacked down onto the hat or garment, and then the design is embroidered on top of the foam. "This is an example of one of our favorite puff designs," Remer says. "It was created for the Instagram account hermaninthehood – https://www.instagram.com/hermaninthehood/. The customer and owner of the account takes photos of his dog on adventures across the world. He really wanted to create some cool merch with his brand, which is the dog wearing various hoodies. We used flat embroidery for the dog's face, but then we puffed the hood creating a more 3D look which matched the dog's look perfectly. The customer absolutely loved the result and ended up ordering hats with all the different hood colors the dog wears."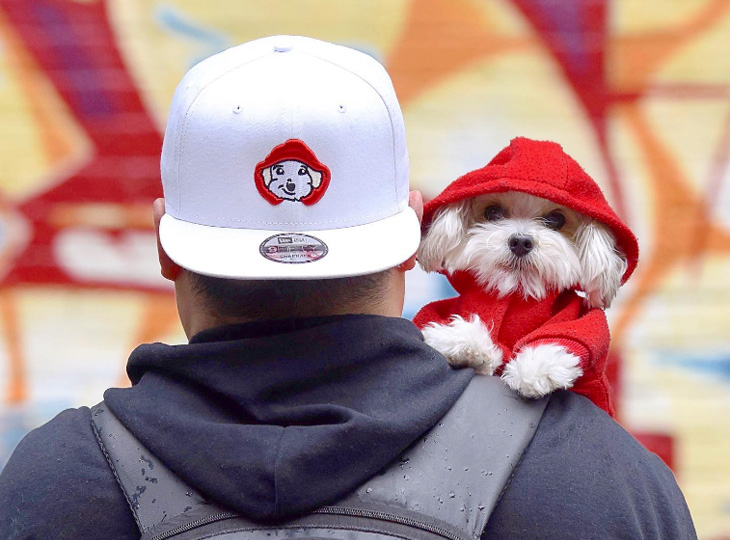 Can anyone create a 3D embroidered design?
In a word, no. "Not all embroidery machines can create a quality 3D embroidery design," Remer says. "To ensure a professional result, you'll have to adjust the tensions on your embroidery machine. For puff embroidery, the tension is typically looser than with standard, flat embroidery. We use a tack down stitch on the puff before sewing, so it stays in place during the sewing process. When combining puff with flat embroidery on the same design, sew the puff sections last. Be sure to place stops in the machine files between the standard and puff embroidery so the machine operator can add the puff in the middle of the run. Add caps to squared edges to make them look crisp. It looks best when we can get the caps perfectly aligned with the end of the shape."
What differences can I expect between standard embroidery and 3D embroidery?
Letter shapes may be altered. Block letter shapes are generally preferred as they tend to not have serifs or small script detail. We will revise a design to have 1/8-inch minimum width and 1/4-inch maximum width to ensure the puff embroidery retails a clean, high-quality look.
Larger areas may be broken down. If we need more than 1/4 of an inch for width, our team might break that into two stitches instead of one. We do not want the puff stitching width to be too wide or the puff will show through, and threads might break resulting in a quality we find unacceptable.
Small details may be removed. Some designs may have too much detail for puffy embroidery. Our team may need to remove small elements out of the design that will not show or sew cleanly.
Visit Custom 3D Puff Embroidery to learn more about three-dimensional embroidery techinques and to find additional answers for your 3D embroidery questions.