Read Time:
5 Minute, 6 Second
Broken Arrow T-Shirt Printing and Embroidery has been making some of the best custom decorated T-shirts for more than 30 years. The most popular T-shirts brands and styles for custom screen printing (our customer favs) are listed below. These are the top 10 most popular and flattering T-shirts for the reasons listed below.
The number one T-shirt for custom screen printing is the:
It's gutsy to put the word "perfect" in the brand name of a T-shirt, but in this case, the description is spot on. With the casual comfort and flattering drape born of using the best combination of polyester, ringspun cotton, and rayon, this District tri-blend T-shirt is very likely to become your new favorite. This tri-blend tee falls between budget-friendly and higher-end retail. Customers rank it as one of the best custom T-shirts, as it is super soft and features a casual, easy-to-wear fit. Unlike heavier solid cotton shirts, this t shirt gives easily as your body moves while maintaining its shape wear after wear.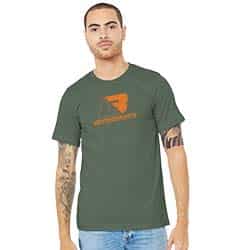 This super-soft unisex heathered jersey T-shirt is a customer favorite and ranks as number 2 on our list of customer favorite T-shirts. Made from a blend of polyester and cotton this ultra-popular t-shirt is breathable, light-weight, super comfortable, drapes nicely, and is well made. Customers rank it as one the best fitting t-shirts as it drapes well over both straight and curvy frames. Even though it is lightweight, it is not see-through and retains its shape wash after wash. Once you order this soft heathered tee, it will likely become your go-to shirt. Often sold by retailers, we sell this shirt custom decorated at a price typically lower than the plain shirts you'll find in department stores.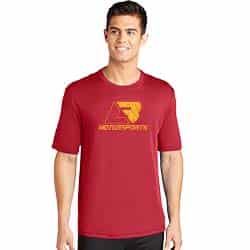 The Sport-Tek ST350 is a budget-friendly performance T-shirt that will help keep you dry and comfortable. Made from 100-percent-polyester, the shirt is also available in youth, ladies, tall, and long sleeve companions. You'll find 25 different color options, too. Sport-Tek is one of our most popular t-shirt brands do to its price point and quick dry technology.
The Glidan 5000 is an excellent value-priced T-shirt. Made from cotton, this medium weight shirt is available in companion ladies and youth sizes, and you can choose from 70 different colors. This classic fit tee falls between fitted and loose. The fabric is snag resistant. If you are looking for an affordable T-shirt for an event, work, sport, or business, consider the Gildan 5000 as your go-to shirt.
This Nike performance T-shirt is made from polyester Dri-FIT fabric to help keep you dry and comfortable. Available in 13 colors, the Nike swoosh is located on the upper left breast there is plenty of room for your logo or design on the front and back. If you love a swoosh, this shirt is for you.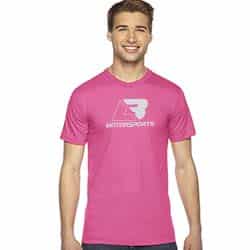 Made in the U.S., the American Apparel 2001US is made from 100 percent fine jersey cotton with a slim fit. It is available in 47 colors and a wide range of sizes. Fine jersey is a medium-weight, soft cotton fabric that, when washed in cold water and tumbled dry on low heat, won't shrink. It is seamless on the sides for a super comfortable fit and does give more than heavy cotton and drapes well. This T-shirt looks awesome custom-screen printed wash after wash. It is ranked number 3 by our customers in terms of best fitting t-shirts, best t-shirt brands, and best custom t-shirts.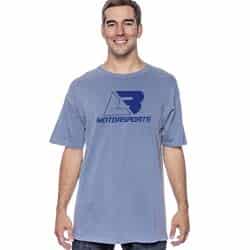 This heavy-weight 100-percent-cotton pigment-dyed T-shirt is available in 81 different colors (that's not a typo). Pigment dyed is a fiber coloring process that continues to soften and age with washing. The shirt is washed multiple times before it is custom decorated, so it will have a fashionably worn heathered appearance upon arrival. Because of the dying process, don't wash it with other colors, at least for the first few times. The fit is casual, not too tight, and most Broken Arrow customers really appreciate the way it looks and feels. It is ranked number 5 as our most popular t-shirts.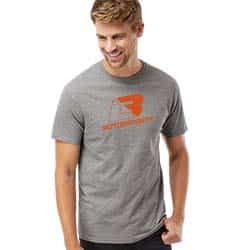 If the cheapest price is what matters the most to you, this shirt is the way to go. Available in 55 colors, it's made from high-density 5-ounce jersey cotton, which means the clarity of your screen printed design will be exceptional. The shirt is pre-shrunk, and features a standard cut, not fitted. Fruit of the Loom is still one of the best T-shirt brands year after year due to its affordability and durability.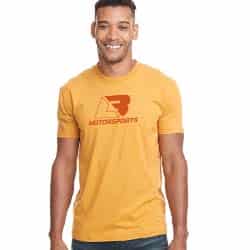 This budget friendly T-shirt is made from 100-percent combed and ring spun cotton making it smoother and stronger than most other t-shirts. It's available in 31colors and both youth and ladies companion t-shirts are available. It's lightweight, soft, and comfortable and comes in at number 7 in terms of best T-shirt brands.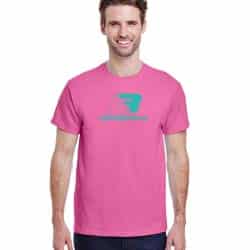 This heavy weight cotton t-shirt is likely already in a closet near you. Budget friendly, the t-shirt comes in 51 colors and has companion, youth, ladies, and long sleeve options. The Gildan 2000 has been one of the best custom t-shirt brands for decades and will likely remain popular for those that love a heavy, dependable workhorse of a shirt.
Still not sure which T-shirt is best for you? Check out our entire T-shirt catalog or take our T-shirt quiz to determine which shirt is best for your needs.