Read Time:
2 Minute, 15 Second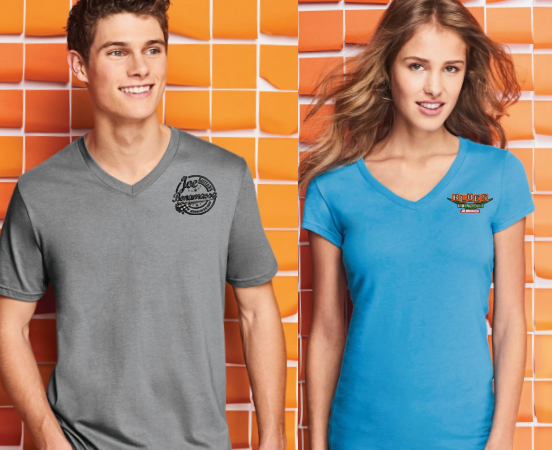 Fashion Forward Tees for 2017
Wanna Be a Trendsetter? Put on Your Favorite T-Shirt!
Today's tees blend fashion, fit, and comfort beautifully for a look you can love everyday of the week. In case you haven't noticed, gone are the stiff, poor-fitting T-shirts of the past. Today's T-shirts are designed to look great and feel comfortable on every body type. T-Shirts are also a trendy, stylish way to let others know about a favorite pass-time, team, or cause that matters to you!
T-Shirt Fashion
The Concert Tee: Whether you are rocking a T-shirt from Lady Gaga, Tim McGraw, The Rolling Stones, Joe Bonamassa, or your favorite band, concert tees are trending in 2017.
The Team Tee: Wearing a T-shirt that pays tribute to your favorite team—whether it's the Milwaukee Little League, the Carolina Panthers, the New York Giants, or Paul's Slow Pitch—is a top trend for weekend wear in 2017.
My Favorite's Tee: Also trending in 2017 is wearing a tee that that means something to you. Whether it's a tee from your favorite charity, your first marathon, or your favorite brewery, wearing something that means something to you is a look that is ever popular.
Slimmer cut T-shirts show off your curves without too much bulk in the middle. Some women's slim-fit tees even have an hourglass shape to them. Standard cut T-shirts are shaped, well, like a T. They fit a bit looser than slim cuts and look great on most guys and gals with straighter figures. Roomier cut tees are great for those on the stockier side who like a looser fit.
T-Shirt Comfort
Multiple fabric selections make choosing a T-shirt that feels oh-so-comfy a slam-dunk.
Pima cotton, the highest quality cotton, is made from extra-long cotton fibers, which makes pima cotton tees extremely soft and durable.
Ring-spun cotton is created by making a very fine rope of cotton fibers. The twisted fibers make the short hairs of cotton stand out, creating a strong yarn that is also very soft.
Moisture wicking polyester is what many dry-fit and performance tees are made from. This wrinkle-resistant fabric feels sleek and soft to the touch. It is also extremely durable and shrink resistant.
Poly-cotton blends feel cool, light, soft, and comfortable and are also wrinkle and shrink-resistant.
Tri-blends—typically of blend of polyester, cotton, and rayon—have all the features of a poly-cotton blend, but feel even softer. This super softness makes tri-blend T-shirts drape against the body.