Read Time:
3 Minute, 12 Second
Over the last week, it is officially feeling like spring is on the near horizon! Our snow has finally melted and people have come out of their houses in droves. The park is busy, the streets are littered with children playing, grills are going and beers are flowing. This has got me thinking about all of the amazing things I can't wait to do this summer in the beautiful outside weather. Then, I start thinking about what I am going to wear doing all of these activities to stay fashionable, but nice and cool! Since all of Broken Arrow's products are offered at wholesale prices, I peruse through our catalogs often to stuff my closest full of exactly what I need to avoid paying full price at retailers. Below is my list of my go to items for working/wearing outside.
1. Lightweight Jacket
– It was time to put away my big winter coat and switch to something a little less bulky. Last year, I got a new Port Authority Waterproof Jacket and I am using that again. At less than $50.00, there is no way I am going to find something better & cheaper, plus, I love it! It has a hood and a great rain resistant nylon shell. It's light enough to not be hot, but it also gives me enough warmth for a little crisper of a day. The simplicity of this jacket would allow for a really great custom embroidered logo, or retain the waterproofness of the jacket and go with a custom screenprinted logo.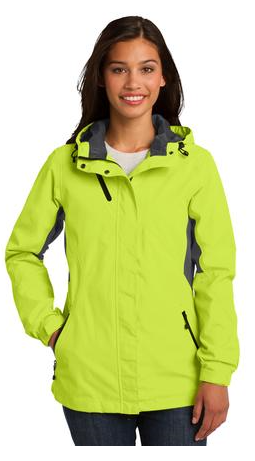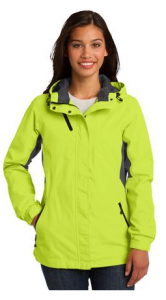 2. Workout Top
– My workout consist mostly of getting on my bike and riding around on the beautiful trails that surround the city. If you are like me, I am pretty particular in what I wear because otherwise, it can be really misterable! I want the item to be lightweight and good for sweating in because I'd like to think I am working hard enough to get an actual workout. The Sport Tek Ultimate Performance V has become my favorite! The V isn't too low, which is important since there are always bikers coming the other direction J This polyester shirt though feels more like cotton – its not as clingy, is breathable and isn't shiny. In fact, I use this one piece ALL OF THE TIME during the hot months. This would be good for lawncare, waitresses, state fair staff, or any profession that is going to be outside and needs to stay cool in their custom logoed apparel.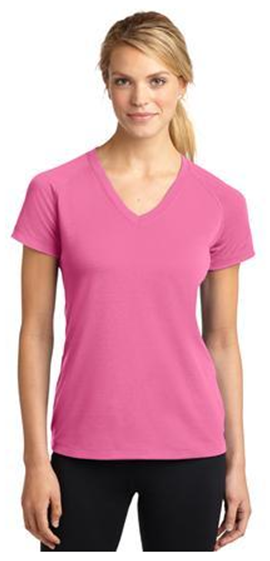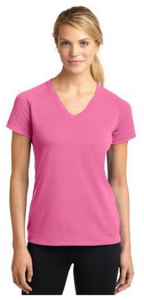 3. Shorts – I love this pair of shorts by Augusta Sportwear. What do I love about it? What is not to love? The short is long enough to be modest but still not frumpy, it comes in a few fun colors, is super lightweight, and is just comfortable. I own pretty much one in every color! I use this to play volleyball, bike (of course), lounge around the house, and pretty much any other time where this might be appropriate.

I'll have to do another blog soon with my favorite wholesale fashion blanks that I wear during the warmer months! Since we are a custom screenprinter and custom embroider company, we get the fortune of dressing casually, but still work appropriate. We have thousands of products that can be really great for both wearing and putting your custom logo on. From fashion to sporty, team to professional, we've tried them all and can recommend something really great for your needs!
Kortni